The cheapest casket you can buy is a cardboard casket which ranges from $250
Funeral homes have to accept caskets bought elsewhere
Purchasing from a reputable online vendor is generally the most affordable option
Lower-priced caskets also tend to be environmentally friendly
This site contains affiliate links, meaning that we earn a small commission for purchases made through our site. We only recommend products we personally use or have thoroughly reviewed.
Funerals can be expensive to plan and sourcing a casket forms a large part of the budget. It's important to note that spending less is not reflective of what your loved one meant to you nor should it be based on pressure for a 'fancy' send-off.
This guide details proven ways to save on burial containers – we've scoured the internet for the cheapest casket options so you don't have to.
What is the Average Price of a Casket?
The average price of a casket can range from $2,300 to $5,000 for a standard wood-based model. This figure varies widely with costs easily surpassing $10,000 for a premium burial container.
Which is Cheaper – Coffin or Casket?
A coffin is generally cheaper than a casket despite both serving the same function. This is because a coffin's design is narrower at the base compared to a casket, resulting in less wood or material usage. While there may be a slight price discount, this difference is negligible for the most part.
Why are Caskets so Expensive?
The quality of material used and the craftsmanship involved to produce a casket are key reasons for the high price. In terms of wood caskets, the most expensive options are solid mahogany and red cedar. The priciest metal burial containers are made of bronze and copper.
A casket's price will also reflect the external and internal finish, ornamentation, custom changes, durability, and added features such as handles and gaskets. Due to the size and weight of a casket, higher delivery and storage fees are usually incorporated into the final cost.
Finally, as with many things in the funeral industry, the markup on a casket by funeral homes is significant. Ranging anywhere from 300 to 600 percent on top of the wholesale price, caskets are a big income source in the industry.

Know Your Rights – Casket Shopping
A common misconception people have is that they need to source their casket directly from the funeral home. Under the Federal Trade Commission's Funeral Rule, you can purchase a burial container from anywhere or even make one yourself and it must be accepted. Your funeral home or mortuary has no right to refuse a casket from a third-party supplier or charge handling fees to do so. Some further points to note are:
Ensure that your casket adheres to the standards required by the cemetery before buying
You may be required to sign off on the casket delivery at the funeral home and be present to dispose of any packaging
The funeral home must provide you with a General Price List which details all casket pricing in itemized form
Types of Cheap Caskets
There are two options you can take when picking a casket. This includes the non-traditional route where caskets tend to be eco-friendly and biodegradable. Alternatively, you can pick an inexpensive traditional-style casket made of wood or steel. We've outlined the offerings in both categories in order of average price:
Types of Non-Traditional Caskets
Cardboard Casket ($250+)
Cloth Burial Shroud ($325 – $550) – While not technically a casket, this is a worthwhile mention from a price and sustainability perspective
Woven Fiber Casket ($900 – $2,400+) – This can be made of rattan, seagrass, bamboo, hemp, or even banana leaf
Types of Traditional Caskets
Pine Casket ($500 – $1,800) – Often used by the Jewish, this casket takes a simple form with minimal embellishments
Plywood Casket ($750+) – These are usually covered in cloth or a thin hardwood layer to appear higher in quality (laminate casket)
Veneered Casket ($800 – $1,500) – Made of fiberboard and then painted with a wood veneer
Steel Casket ($1,200 – $5,000) – In copper, bronze or stainless steel form. They are available in 16, 18, and 20 gauge thicknesses
Solid Wood Casket ($3,300 – $6,000+) – A pricey option made of rarer hardwoods such as walnut and mahogany
What is the Cheapest Casket you can Buy?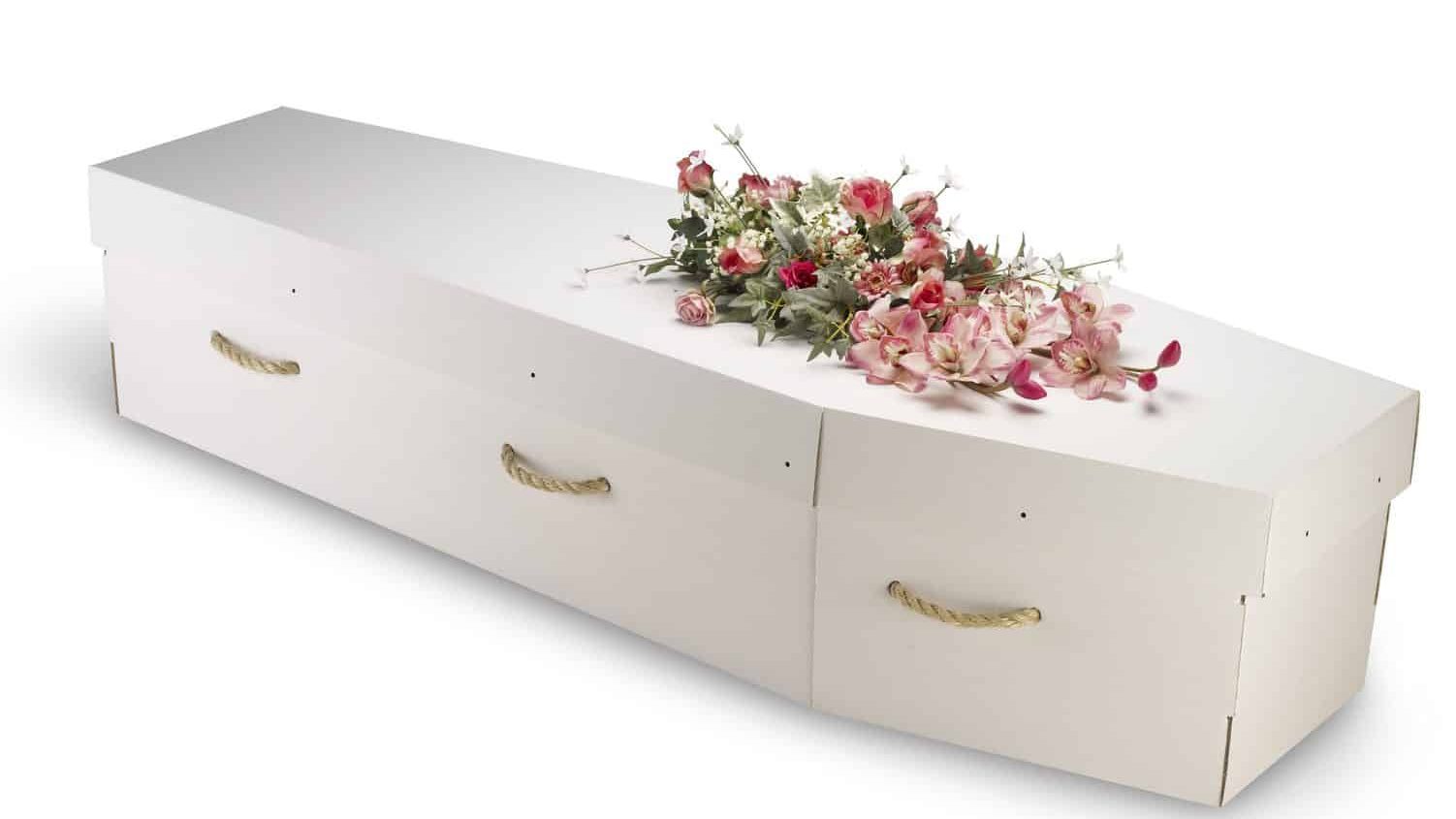 A cardboard casket is the cheapest casket you can buy. With prices starting from $250, this is an affordable option compared to traditional wood offerings. Cardboard caskets are also environmentally friendly and biodegradable.
While you may view cardboard caskets as unconventional, consumers are increasingly making more sustainable choices. 'Green' funerals are becoming mainstream with many choosing to say farewell with a minimal carbon footprint. We've written a complete guide to cardboard caskets here if you're interested in learning more.
Where to Buy Discount Caskets?
While there is a wide range of cheap caskets available online, some retail stores also offer affordable options. This comes with the added reassurance of seeing the product and actual quality in person. In any case, make sure that you compare the selection between vendors before buying (ensure that similar materials, weight/dimensions, and features are considered). From a logistics perspective, ensure that the supplier can deliver on time and their refund policy has good flexibility.
If you pay between $700 to $1,300 for a casket, this is fairly inexpensive by industry norms. Our top suggestions for both online and in-store casket suppliers are below:
Costco – Most of their options are wood-based and around the $1149 price point for those with memberships. They will only ship to cemeteries or funeral homes, so those wanting home delivery should use alternative suppliers
Sam's Club – Members are able to purchase caskets from a range online that are mostly inclusive of shipping. Prices are affordable at the $999+ mark, however the options are quite limited
Walmart – Available online, Walmart sources its range largely from Titan (mentioned below) or Overnight Caskets. The price is comparable to going directly to these vendors at $879+ but you will need to factor in shipping fees. Walmart credit card members also have the benefit of accessing payment plans. Note that the refund policy is strict with returns only allowable if there are defects
Etsy – If you're open to non-traditional options, this marketplace offers alternative caskets such as burial shrouds and woven burial containers
Titan Caskets – An online brand selling quality caskets that pass on savings by bringing designs in-house and selling direct to consumers. A key benefit is the allocation of a free 24/7 funeral concierge to manage the order and give you certainty of a set delivery date
Amazon – Sell a range of caskets that are largely fulfilled by third-party online retailers. You can view verified purchaser reviews here, often with photographs of the delivered product
Careforde Healthcare – A provider of health supplies and materials rather than a specialized casket vendor. They sell a limited range of disaster response cardboard caskets that start at $237
Where do Funeral Homes Source their Caskets?
In America, you will find that most funeral homes use the same suppliers for their casket range. The main manufacturers are Universal Casket Co, Batesville Services, and Aurora Casket Company. They sell directly to licensed funeral companies so orders from the general public are unlikely to be accepted.
Cheapest Caskets Available Online
If you prefer to use a more traditional type of casket then see our suggestions below. Each casket has been reviewed for value in terms of cost, features, the reputation of the seller, and quality of materials. Note that the price of each suggestion has not been listed as this may fluctuate (click on the link for current prices):
Cheap Caskets Under $500
There are limited options for those looking for a casket in this price range. The most viable option we have found online is this Everybody Coffin. For those who are willing to go the non-traditional route, a burial shroud is both affordable and eco-friendly.
Cheap Caskets Under $1000
For savvy funeral planners, it's very possible to source a casket for under $1000. Some recommended options are below:
Cheapest Wood Caskets
The most affordable wood caskets are simple in design and finish. As pricing is largely determined by the type of material used, look for caskets made of pine, poplar, or cedar as the cheapest options. Our favorite picks are below:
Cheapest Metal Casket
The cheapest metal casket available will be made of steel. Steel caskets are sold based on the thickness of the metal used to construct the container. This is also known as the gauge. A lower gauge refers to thicker steel (e.g. 16 gauge is the thickest), so you are best placed to pick a 20 gauge model as the most inexpensive option. There is little difference to the untrained eye in quality between gauge types so you can make large savings here.
Higher-priced metal caskets are made of copper and bronze. These models are not rated by gauge – rather, they typically increase in cost with increasing weight. Most retailers will sell them as 32 or 34 ounce options. We've curated a range of affordable metal casket options below:
Cheapest Oversized Caskets
If you're after a larger casket for your loved one, this doesn't have to cost a lot more. Buying an off-the-shelf oversized casket will save significantly more than one that is custom-made. Note that the typical dimensions of a larger model will measure anywhere from 28 to 55 inches wide. Some affordable and popular options include:
How to Save on a Casket?
There are many ways to save money on a casket on a tight budget. Think about what you most value (such as durability, appearance, or sustainability, etc.) when making your choice. Also, note that the casket itself is only one aspect of a burial. You're likely to need a grave liner, headstone or marker, and fork out for installation fees. Here are our best tips to source a cheaper casket: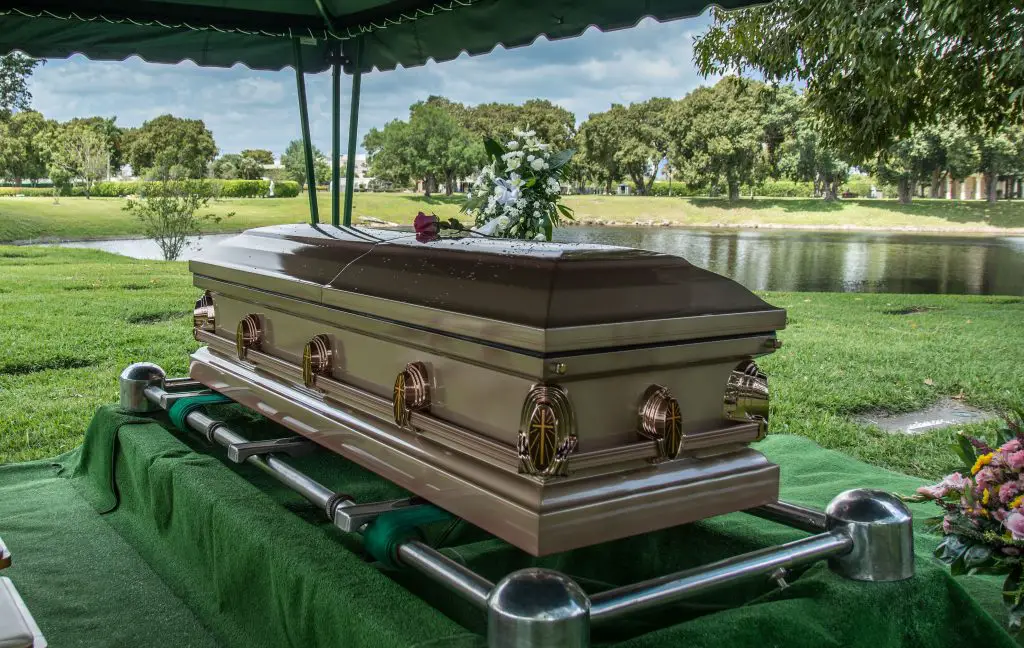 Keep it Simple
Pick a simple form casket without the bells and whistles – do away with plush lining and pick crepe interiors, steer clear of ornate handles, and choose an off-the-shelf rather than custom model.
While they are unlikely to be offered to you if you're opting for burial, the funeral home will have a range of cheaper caskets specified for cremation. These containers don't have metal components and can be used for burial. It can't hurt to ask to view these options too.
Decline the Upsells
Grieving family members are often emotionally pressured into upsells for their passed loved one. A fairly useless but common offering is to add protection to the casket by vacuum sealing it with a gasket. This extra feature known as "gasketing" or "sealing", is said to slow decomposition for a small fee of $700 and upwards. These rubber gaskets cost less than $10 and do little to preserve a body. In fact, the trapping of gases can accelerate decay by growing anaerobic bacteria.
Shop Around
When picking a supplier, the funeral home and retail showrooms will have the strongest mark-up. While you're in-store, ask if they have any display, discontinued or scratch and dent caskets at a reduced cost. Be transparent about your budget as the salesperson will likely appreciate this and hopefully find something at a fair price.
Ensure you compare the pricing of online casket providers before you commit to a purchase. You can also use a comparable model available online to negotiate with the funeral home – they have the discretion to offer a discount.
Rent a Casket
This involves placing the deceased in a simple wooden container that is then inserted into a casket for the service. The wood container is removed from the rental casket after all formalities are done. This practice is becoming more common as the price of funerals increases over time.
A key benefit of this is the cost savings while not having to compromise on having a quality casket during the funeral. While a basic burial container is still used, this is cheaper than forking out for a high-end casket. Your funeral home should have some rental options if you are interested (it can still be pricey to rent so pick an affordable one!). Expect to pay an average of $700 to $1,300 for a rental.
Take the DIY Route
If you're handy with the tools or know someone who is, then consider building a homemade casket. As daunting as this sounds, it's actually a straightforward process with the right guidance. It's also pretty affordable at $250 to $300 for the total cost of materials.
Many actually find this to be a heartfelt activity for their loved one. Make sure you check your dimensions with the cemetery so they adhere to the burial plot measurements. The below guide is a popular resource for the DIY route or you can buy a Build-Your-Own Casket kit online.
Plan Ahead
As morbid as it may seem, if you know that a death is imminent or if you're planning your own funeral then consider buying a casket in advance. This enables you to remove the stress of planning this aspect when the time comes from grieving loved ones. It also allows you the luxury of more time to find a cheaper casket and lock one in before hiking funeral costs. Many retailers will hold onto the casket on your behalf until the container is needed (this usually forms part of a pre-paid funeral plan).
What is the Cheapest Way to be Buried?
While there are savings to be made if you shop around for a casket, it may be worth shunning the traditional route altogether. A direct burial is the cheapest way to be laid to rest whereby the body is buried shortly after death in a simple container. As there are no visits, embalming, or need for longer-term storage, the process is more affordable than a full-service funeral. Families are still able to have a graveside service or memorial at a later date if desired. 
Another option is to have a green burial. This process involves burial in a biodegradable casket (which are usually cheaper) into the ground without the need for a grave liner or toxic chemicals from embalming. As green burial requires fewer resources than a traditional funeral, this approach can be more inexpensive.
Cheapest Casket FAQs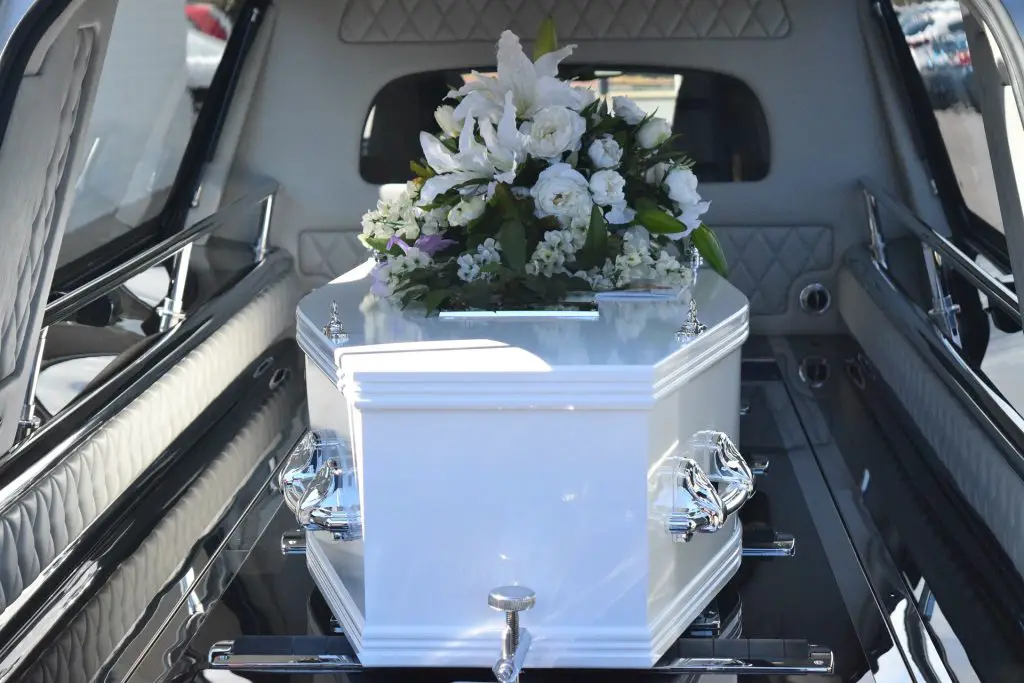 How much is a basic coffin?
While consumers pay an average of $2,300 for a basic wood-based coffin, you can source one from various online retailers at comparable quality for $1,000 to $1,500.
Can you be cremated without a casket?
At a minimum, state laws denote that you need to be cremated in an "alternative container". This does not need to be a casket as long as a rigid and combustible case is used.
Do caskets stay in the ground forever?
Technically yes, caskets remain in the burial ground indefinitely. However, both the body and the casket are subject to decomposition upon contact with the elements. The rate of breakdown varies between weather conditions and the type of casket used (e.g. wood or metal).
What is a Doeskin casket?
This is a type of casket that is made of an affordable core material such as fiberboard or softwood. "Doeskin" refers to animal skin or medium-density wool fabric that covers the casket exterior.
How much are caskets at Walmart?
Caskets at Walmart are priced from $879 to $3,400 for premium models.
How much are coffins at Costco?
Coffins at Costco are priced from $1,149 to $1,499 for premium models.
Can I buy my own casket?
Yes, American consumers are protected by the FTC's Funeral Rule which enables you to source a casket from any third-party supplier. The funeral home or mortuary must legally accept your casket without charging any fees.