If your loved one has not made prior arrangements for their passing, then there are many decisions to coordinate when saying goodbye. The following checklist outlines the key steps, with some being optional, to take when planning a funeral: 
Funeral Planning Checklist
Select Type of Disposition
Burial 
Choose burial site (e.g. cemetery plot or vault) 
Obtain burial permit
Choose burial container or casket 
Decide on type of memorial and inscription (e.g. headstone) 
Cremation 
Pick an urn or container for ashes 
Decide what to do with ashes (e.g. scattered or interred)
Medical donation of body
Engage with medical faculty at a hospital or university 
Choose the Type/s of Gathering and Location
Viewing or Wake
Traditional Funeral Service:  
Body present or not 
If present, open (may need embalming) or closed casket
Memorial Service
Graveside Service 
Interment 
Reception
No Service (direct committal) 
Other 
Determine financing options or funding for the funeral and interment 
Select Times and Date/s 
Date: ___________
Time: ___________
Invites 
Create a list of who to invite 
Specify who to invite to each gathering (e.g. family only for viewings) 
Ensure that venue size for gatherings is suitable 
Notify all attendees of funeral service details 
Draft an obituary if wanted and determine where to publish it
Details of the Service 
Organize transportation for the deceased and for family if needed 
If the casket is present, organize pallbearers (traditionally six) 
Pick an outfit for the deceased 
Nominate an officiator of the service (e.g. funeral celebrant or clergy) 
Detail the order of readings, eulogies, and prayers 
Select loved ones to speak at the service 
Create a video or slideshow of photos to present 
Create and order funeral program booklets 
Organize a guest book for attendees 
Prepare some framed photos or keepsakes of the deceased for display 
Pick music or hymns 
Choose floral arrangements and delivery 
Consider a charity for request of donations (often in lieu of flowers)
Organize food and drinks for any catered events 
Downloadable Funeral Planning Worksheet 
If you prefer to print a copy of the planning process, download our Funeral Planning Checklist pdf below:
How to Plan a Funeral Service

Losing a loved one is often a time where you are overwhelmed with grief and the demands of planning a funeral or memorial service. Knowing what to consider when planning a goodbye can help to ease the burden and allow you to focus on what matters. 
This complete guide details the process in an easy step by step funeral planning checklist. It covers what to do immediately after a death, what to expect when making arrangements, and the essential things to consider.
What to do After Someone Dies? 
Your immediate approach after someone has died depends on the context of death. In terms of key steps: 
Get a legal pronouncement of death 
If your loved one passed away at home, contact local law enforcement or 911. They will help to coordinate an attending physician or medical examiner to officially pronounce the death. This involves assessing if further review is needed (usually an autopsy if the cause of death is unknown), or for straightforward matters, they will complete forms which certify the circumstances and time of the death. 
If the death occurred in a facility such as a hospital or nursing home, then a doctor or hospice nurse can support you with this step. A legal pronouncement will then enable you to source an official death certificate. This document is essential for various reasons such as closing off estate or insurance claims. Try to source at least ten copies of the death certificate as you'll need them to handle future matters. 
Check for existing plans 
Is there a funeral plan in place? Was your loved one an organ donor? This information is critical for your decision making. Look for any written instructions, often titled as "Final Instructions" or Disposition Authorization" for funeral arrangements. Contact close family members or a legal representative who may have access to this information if you are unaware. 
Note that organ donation is a time-critical process and the best way to find out if this was your loved one's preference is via a driver's license. Some states do not have this detailed and you will need to make this decision. 
A further consideration is whether your loved one was a member of the military as veterans may be eligible for financial assistance. 
Arrange transportation of the body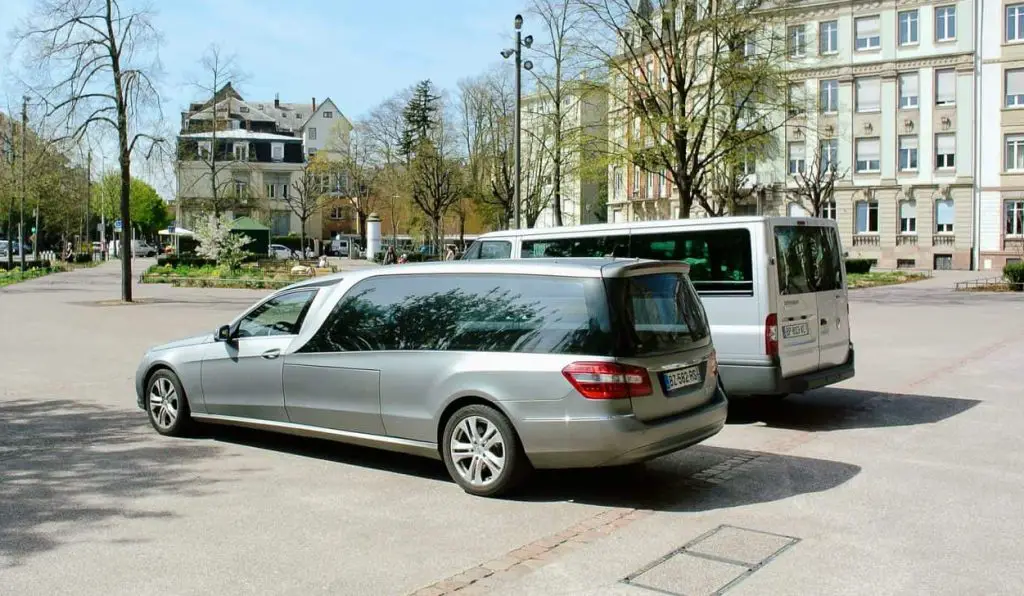 Most nursing homes and hospitals require removal of the body within a few hours after death. If your loved one had prior arrangements in place then enact the funeral plan as per their wishes.
If there are no plans, then you will need to decide what to do with the body (final disposition) and engage with either a funeral home or a crematorium directly. They will come and pick up the deceased from the place of death. Ensure that you remove any valuables from your loved one for safekeeping before transportation. 
Notify family and friends 
This is one of the most difficult steps following a death. You might prefer to gather everyone together in person or make individual calls. In any case, it may be helpful to ask those who are close to the deceased to pass on the message to ease the burden. 
You will also need to notify employers or co-workers if applicable. Your loved one's manager may be able to provide information about insurances and final salary payments. In any case, advising of a death can be tough so ensure that you exercise self-care or consider professional help.
Take care of dependents and household tasks 
Did your loved one have any caring responsibilities? This can include elderly parents, children, and pets. Ensure that any immediate needs are addressed.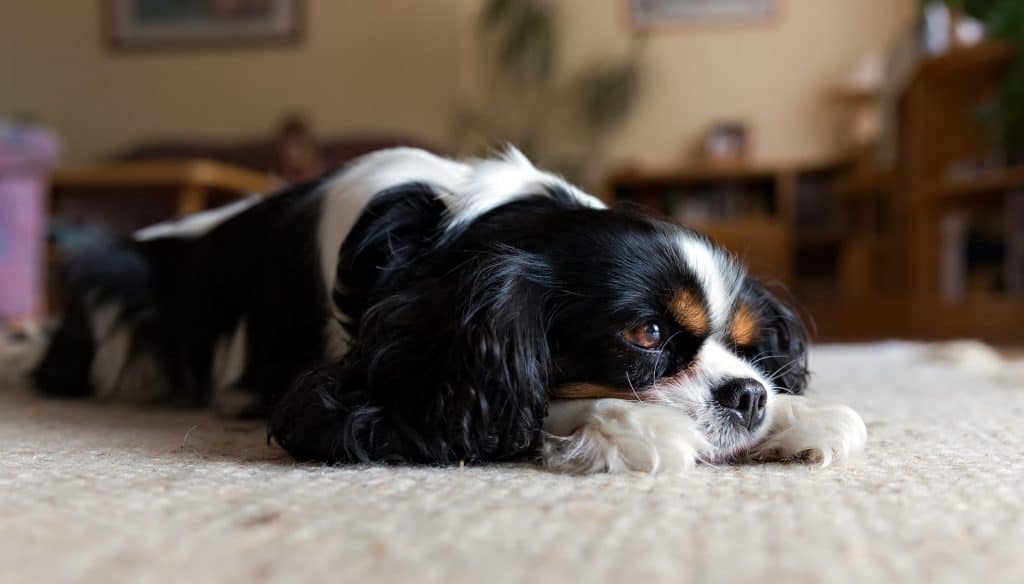 If there is a house to maintain, make sure that this residence and any vehicles are locked up. Tend to any plants, perishable foods, and consider moving valuables to a safe place if the home is likely to remain vacant for a while. You may also need to divert mail or make regular pick up's if you are unable to forward letters (requires you to be appointed executor).
If the house is a rental then get in touch with the landlord or rental agency to notify them of the death. You should discuss ending the lease and return of the security deposit once there is a confirmed moving out date. 
Locate important papers 
Start to gather your loved one's documents so they are located centrally. While some of the below list may not apply, the key documents to source include: 
Birth certificate 
Marriage certificate
Driver's license 
Social security information 
Passport or citizenship documents 
Last will and testament (if one exists) 
Military service records and veteran's discharge papers
Health and life insurance policies 
Property deeds and title documents
Vehicle titles 
Past two years' income tax returns 
Password information
Bank statements and financial accounts (including retirement, credit card, brokerage and mortgages) 
Outstanding debts or bills to be settled 
Utilities and subscriptions 
Business documentation or agreements 
List of safety deposit boxes and keys or those with access 
Begin finalization of estate
If a will or final plans do not exist, then engage with an attorney that specializes in probate. They can help with appointment of an Executor of the estate (often a family member or partner) to authorize the closure of affairs and accounts.
If your loved one made pre-arrangements and outlined their wishes in a will, then this will facilitate resolution of the estate. To ensure that their wishes are honored, get in touch with their legal representative or attorney for guidance. This is best done early on as sourcing the will can take a while. 
Note that if planning of the funeral is your first priority, then you can focus on estate matters after the service is completed. This is usually a better approach if the memorial occurs within a few weeks of death. 
How Soon after Death is a Funeral?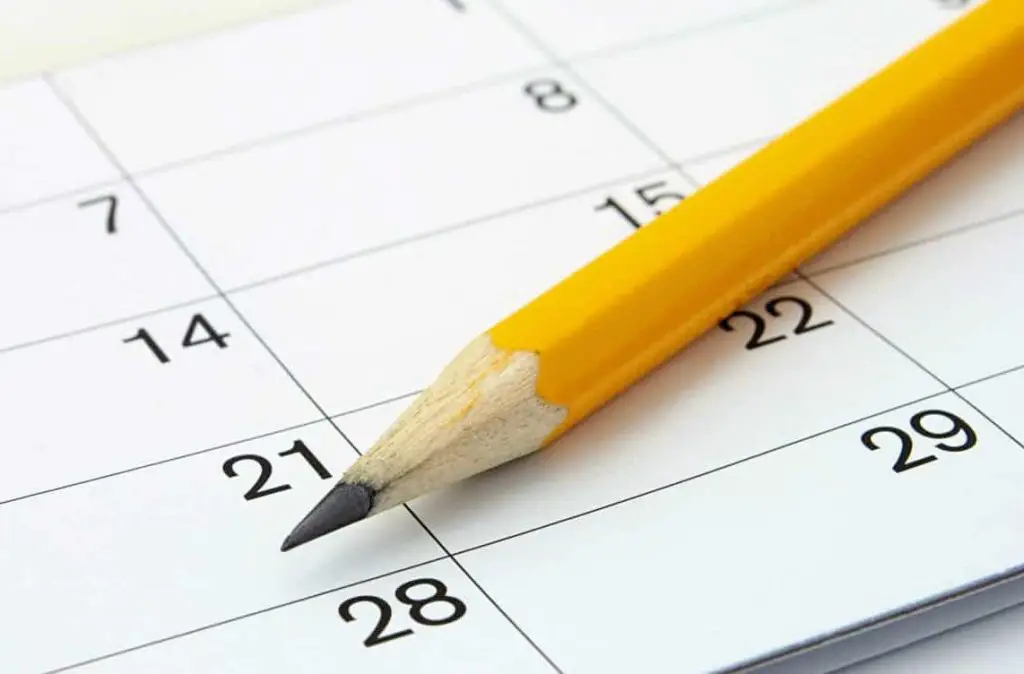 Most funerals occur within a week or two after someone has died. While timeframes are largely driven by how quickly you or the family can make the necessary arrangements, some aspects may be out of your control. If you are considering when to have a funeral after a death then there are some factors that can influence your plan. These include: 
Delays caused by a post mortem or autopsy if one is required. A Coroner review typically adds another 5 to 7 days but can take longer
When all legal sign-off and death certificates can be obtained
If the deceased passed away in a different state or country then transportation back is required 
If your loved one made funeral plans or advised of their wishes in advance. This will make key decisions much easier 
If any family members or friends will need to make travel arrangements to attend the funeral
Whether the proposed date conflicts with any significant days (e.g. family birthdays or Easter and Christmas holidays) 
Certain religious or customary practices mandate a timeframe for burial after death 
Availability of your funeral parlor, preferred venue, or church 
Your chosen officiator of the funeral service may be busy and you will need to work to their availability
If cost is a consideration, then a weekday service may be preferable as burial facilities and crematoria often charge a surplus on weekends 
Whether you elect to hold viewings before the funeral 
The burial method chosen can vary in time frame. For example, cremation of remains before a funeral enables more flexibility in scheduling. In contrast, preservation or embalming of the body before burial is a lengthier process 
How Long does it take to Plan a Funeral?
As noted above, the timeframe for planning a funeral is affected by many factors. In general, a funeral can be planned within a few days to a week for a simple service. This is often the case when you have engaged a capable funeral director to assist. 
If there are viewings or a wake, a ceremony before interment (burial or cremation), a graveside service, and a memorial afterward then this will add considerable time and effort to arrange a funeral.
How Much does a Funeral Cost? 
The cost of a funeral can vary dramatically with service fees quickly adding up. While Choice Mutual estimates the average cost of a funeral in America to be $7,360, this figure reflects a more basic service and does not include expenses such as flowers or a reception. It is not unusual for total pricing to be upwards of $10,000 to $12,000 depending on location and the various inclusions available.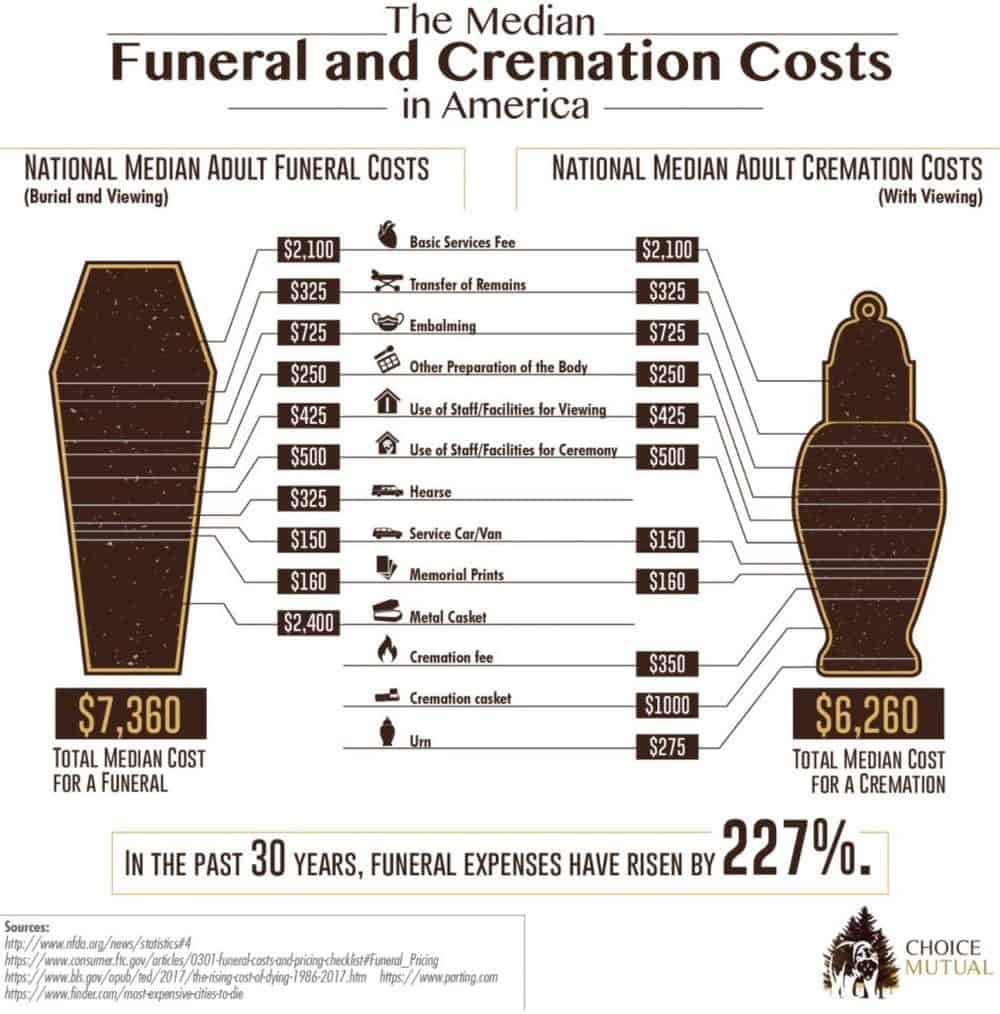 The burden of funeral expenses can come at a shock and cause additional stress to grieving loved ones. To limit financial strain, ensure that you determine a budget for the funeral and decide how it will be funded upfront. While you would love to honor the deceased, this does not have to come at an inflated price. 
What is the Typical Order of a Funeral?
The typical funeral order of service can vary due to budget, circumstances of death, and customary reasons. Families often choose to hold various functions and forego others. Do not feel pressured to follow one process as there is no essential standard, do what feels right to you in honoring your loved one. Noting this, the below details a funeral order of service example that you can adapt from.
Pre-funeral events
Viewing/s or wake
This generally occurs the day before or even on the day of the funeral service. Friends and family gather at a venue which can be a church social hall, a home, or funeral parlor to visit the deceased and offer their condolences. Depending on the wishes of the family, the casket is usually open and present during the wake. This event is more informal in nature and will often have fewer attendees invited.
Main funeral service 
Funeral service or mass
This is a formal event that is held before the body is buried or cremated. Typically lasting for an hour, a clergy or officiant presides over the service and follows a program of songs, speeches, and readings. The order of the funeral service can vary and can depend on religious or cultural traditions. In any case, the main purpose of this gathering is to celebrate the life of the deceased and to allow loved ones to say goodbye.
Memorial service
In contrast to a funeral service, a memorial service occurs after the body has been cremated or buried. An urn or makeshift photo shrine is present in place of a casket. This form of gathering often follows the same program as a traditional funeral with a succession of prayers and readings.
Graveside service
This gathering can follow a traditional funeral service or comprise the main event in itself. The service is held on the grounds of a cemetery either at the gravesite or at the crypt or crematorium. A typical graveside service will involve prayers and readings before lowering the body into the ground or crypt. Some families prefer the gravesite approach as it is a simplified funeral which is brief yet enables them to say goodbye.
Post funeral events 
Interment
The method in which a person is laid to rest (such as burial or cremation). This stage usually occurs on the same day shortly after a funeral service. As noted above, a graveside service will incorporate interment as part of the program. Loved ones can choose to invite all attendees of the funeral service or to keep the interment exclusive to family and close friends. 
Reception
Usually occurring on the same day as the funeral service, a reception is a gathering of guests in a casual setting. This allows people to socialize and share memories of the deceased in an informal manner. Many receptions are held at a home or social hall with food and drinks provided to share.
What to Do After a Funeral Service?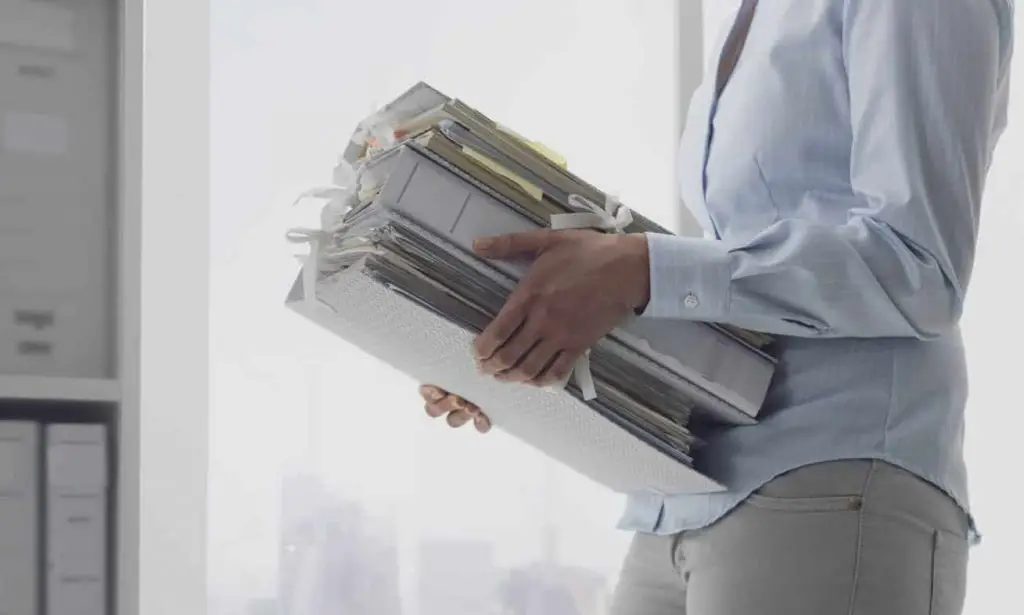 Now that the pressure of planning a funeral service is over, you can focus on closing off your loved one's affairs. Ensure that you have multiple original copies of the death certificate on hand as this is required to process many tasks. Some further steps to consider are:
Notify the Social Security Administration of the death (if your funeral home has not already done so) and to apply for any survivor benefits. The office may also handle the closure of Medicare benefits for you. You will need to provide your loved one's social security number, their date of birth, date of death, and their last address
Notify credit reporting agencies of the death to curb the risk of identity theft or fraud. In America, the largest firms are TransUnion, Experian, and Equifax. You will need the same details that were required to close the social security number
Advise the relevant state DMV of the death and request cancellation of the driver's license 
Ceasing any life, car, and home payments and finalizing claims if relevant 
Update your own insurance policies or any documentation where you have listed your loved one as a beneficiary
Canceling subscriptions such as pay-tv, sporting club or gym memberships, streaming (e.g. Netflix or Spotify), magazines or papers, and alumni or professional associations. You may need to review credit card transactions to determine which services are active
Engaging with banks and financial institutions to close off any credit cards, accounts, or safety deposits 
Work with your loved one's accountant or financial advisor to determine if there were investment holdings. They will help with the transfer of holdings and ownership. You will also need to file a tax return for both your loved one and their estate 
Close off or memorialize all social media accounts. This can be done by contacting sites such as Facebook, Twitter, Linkedin and Instagram
Notify the local election board to remove your loved one off the voter roll and prevent any voter fraud
Donate any belongings and consider an estate sale
As a final step and once you have secured access to relevant documents, reach out to email providers to have any email accounts closed. This will insure against fraud risk
Funeral Planning Checklist FAQs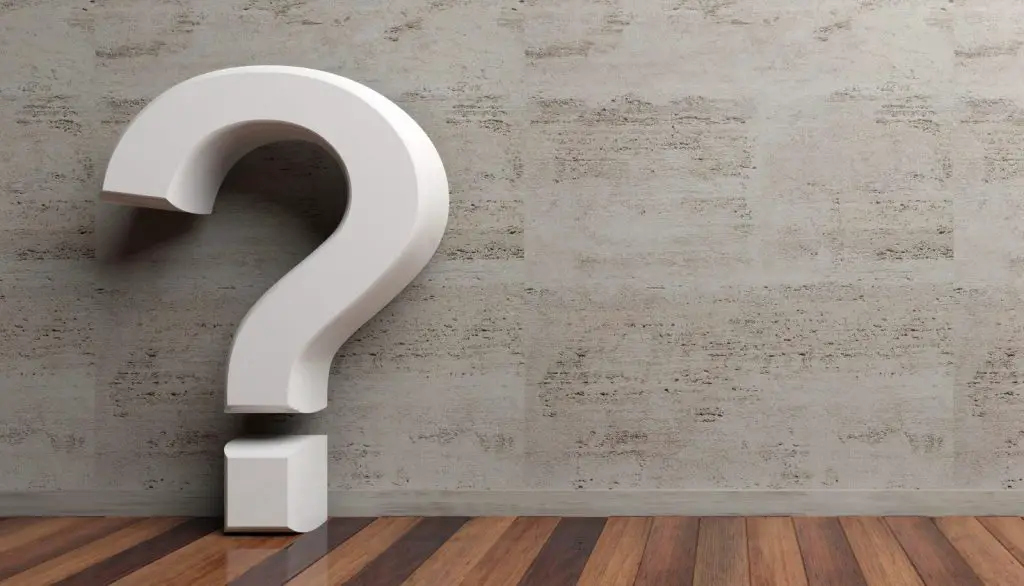 Can you plan a funeral without a death certificate?
This depends on the relevant state law, but generally you will not need a physical death certificate to hold the funeral. Your funeral director will manage most of the paperwork and liaise with a medical certifier to complete the certificate within 72 hours. Once this is filed they will usually issue an interim report of death which can be used to obtain a burial permit. An exception to this is where you plan on cremating the body and a signed death certificate is required due to medico-legal reasons. 
Is it okay not to have a funeral?
Yes, you are able to forego a funeral if preferred or if this was requested by the deceased. At a minimum, you will need to adhere to relevant state law on disposal of the body (e.g. usually burial in an appropriate location or cremation).
What do funeral directors do?
A funeral director acts as the key contact point for family and friends of the deceased. They provide guidance through the funeral planning process and support with aspects such as body transportation, burial options, handling documentation, and coordination of the memorial service. 
Who pays for funeral costs?
If the deceased has a nominated executor in their will then this person handles funding the final expenses. Where no will exists, then the next is kin or closest living relative is expected to pay for the funeral. While funeral costs may be required upfront, any outlaid funds are usually reimbursed out of the estate of the deceased.
How long are funerals?
The length of a funeral can vary widely depending on customs and type of ceremony. A typical funeral service will last for an hour, although it isn't unusual for some to take 30 minutes. Mourners should expect to add an extra hour if a wake or after funeral reception is included.