For those who are fortunate enough to afford it, departing this world in a gold casket is the epitome of luxury. A favorite of ancient Egyptian pharaohs to iconic celebrities, this opulent burial container remains in use to this day.
What are Gold Caskets?

Gold caskets are burial containers that are gold plated with an internal bronze base. The interior of the casket is equally luxurious with a velvet cushioned lining.
Are Gold Caskets Made of Solid Gold?
While gold caskets may appear to be formed from solid gold, this is rare given the cost and weight considerations. Most models will have a bronze core and polished gold hardware on the outside. Given the value of solid gold, using a bronze-based casket also gives grieving families peace of mind that the burial site is not a target for crime.
How much does a solid gold casket cost?
Solid gold (14-carat) caskets are priced from $300,000 to $550,000 depending on the volume of metal used and the intricacy of the hardware. This amount will fluctuate based on the current price of gold.
Where can I buy a gold casket?
Given that gold caskets are a specialty item, they are available as custom orders unlike off-the-shelf models. The Batesville Casket Company manufactures the most popular gold casket – the Promethean. Made of 48-ounce polished bronze, the base model is $24,000 before any upgrades.
What are affordable gold casket options?
While shelling out at least $24,000 for a gold-plated casket is out of reach for many, there are still good options to incorporate gold into a burial container. Whether for symbolic reasons or for those who like the look of this metal, you can choose caskets that have been painted in a gold shade such as the model below: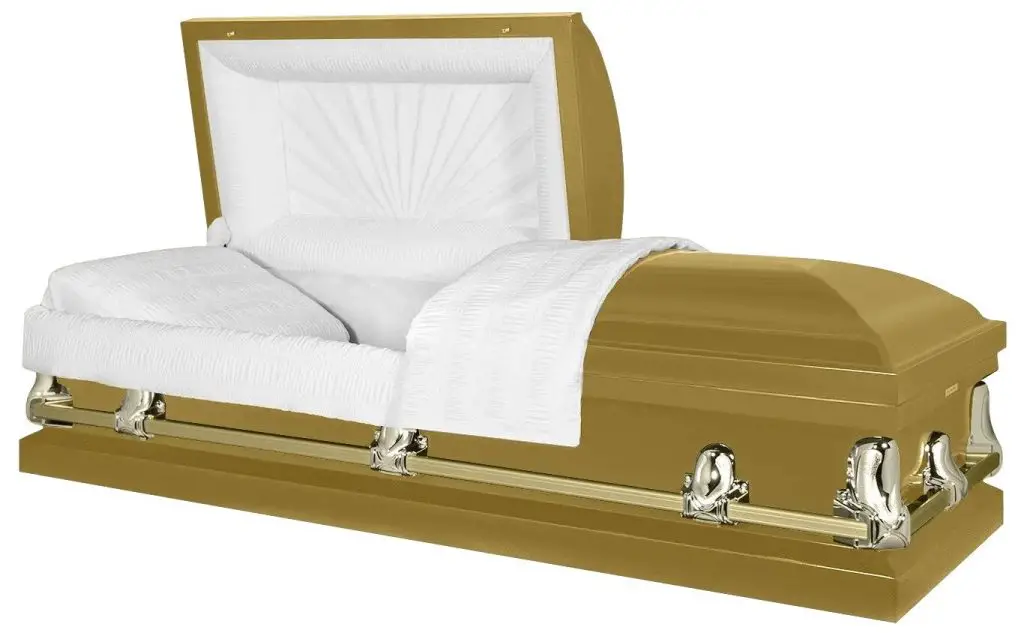 Other affordable options include using gold hardware on a standard wood casket or even rose gold for a feminine touch. On a more personal scale, some grieving family members like to include gold pieces or jewelry inside the casket with the deceased. This is often done for sentimental reasons or for the gold to be used as "currency" in the afterlife.
What Does the Gold Casket Represent?
Gold caskets symbolize wealth and prosperity, enabling the deceased to leave a lasting impression upon their burial. In modern society, those who use gold caskets include celebrities, billionaires, notorious criminal figures, and Asian royalty.
Making for a memorable final exit, a key appeal of this casket is that pure gold is the least reactive of all metals. This means that it is rust and corrode-resistant (particularly in comparison to traditional wood caskets), thereby forming a solid structure to protect the inner contents – a body. Many cultures that believe in reincarnation find this feature particularly desirable.
Will a gold casket stop the decomposition process?
Unless the casket is a freezer, it won't be able to stop the natural process of decomposition. While gold caskets are more solid and rust resistant compared to traditional wood burial containers, they will not stop body decomposition. However, quality gold caskets may support slower decomposition as they are better sealed with interior linings that are treated to reduce corrosion. Modern embalming is a more effective method of slowing body decay that doesn't rely on the protective casket.
Are Gold Caskets Heavy for Pallbearers?
Given that a gold-plated casket is approximately 310 pounds in weight before an average adult body is contained, it is likely that eight pallbearers are required instead of the usual six. This can also be addressed by using a casket trolley which will bare the majority of the load.
What is a Promethean Casket?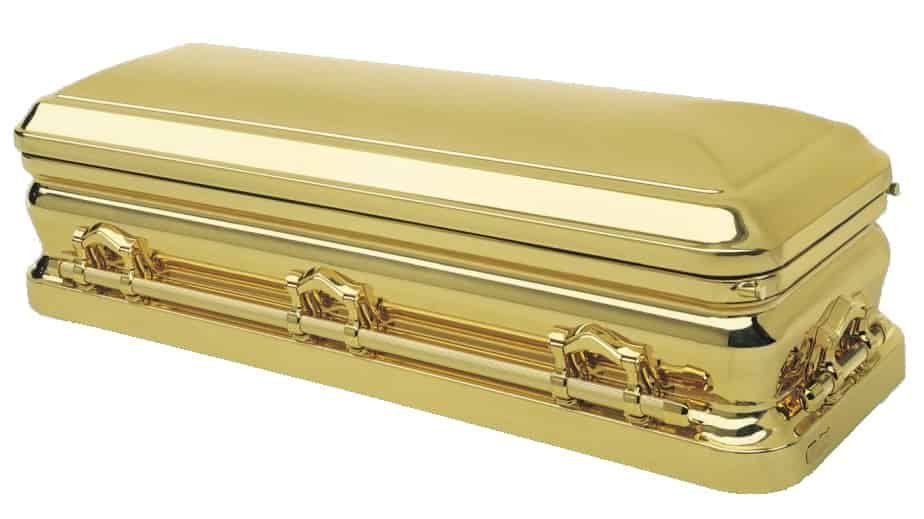 Most of the celebrities who are buried in a "gold" casket are laid to rest in a Promethean casket, manufactured by Batesville. This custom burial container is made of 48-ounce solid polished bronze with 14-carat, gold-plated hardware. The Promethean is considered to be the best casket that money can buy (short of an impractically heavy solid gold casket), allowing wealthy deceased individuals to depart in luxury.
How Long Does it Take to Make a Gold Casket?
A custom hand-made gold casket like the Promethean will take two weeks to create (150+ hours of labor by skilled technicians). This is due to the effort required in polishing the bronze exterior so that it achieves a seamless appearance. The intricacy of the hardware will also impact the timeframe, as extra detailing and craftsmanship are needed.
Celebrities With Gold Caskets
The pop culture status of gold caskets is due to their use in high-profile celebrity burials. Showmen and women to the end, here are some notable names who were buried in a gold casket:
Ivana Trump
Embed from Getty Images
Following her unexpected passing in July 2022, Ivana was laid to rest in a gold casket adorned with red roses. This glamorous send-off reflected how she went about her life – showing class and elegance. Following the funeral, Ivana was buried within the grounds of the Trump family's private golf course in Bedminster, New Jersey.
Aretha Franklin
Singer and songwriter Aretha Franklin passed away in 2018 after a prolonged battle with pancreatic cancer. In tribute to her pop icon status, Aretha was buried in a gold Promethean casket while dressed in a gold gown. This was a fitting send-off over an 8 hour funeral service attended by fellow celebrities and ex-presidents in Detroit.
James Brown
The King of Soul's funeral was a show in itself with thousands of fans lining the streets of Harlem to see him off. A horse-drawn carriage transported James' 14-carat gold casket to the Apollo Theatre for his funeral service. The casket was then moved to two other venues across the country for separate memorial services.
Michael Jackson
Embed from Getty Images
Three years after James Brown's death, Michael Jackson passed away and was also buried in a stunning gold Promethean casket. In fact, Jackson was inspired to use the same burial container after visiting Brown at the funeral home and viewing their casket options at the time.
The King of Pop's gold casket was reminiscent of Jackson's fondness for luxury. Dressed in his best stage outfit with white gloves and a wig to boot, Jackson was buried at the Glendale Forest Lawn Memorial Park in Los Angeles. The casket itself was set in concrete to minimize any threat of grave looting or damage.
Other Notable Gold Casket Burials
Not just a favorite of celebrities, gold caskets have been used by others to mark their farewell. Following his death in police custody and kicking off the Black Lives Matter movement, George Floyd was laid to rest in a Promethean. This was funded by a campaign led by Floyd Mayweather, an American Boxer.
Many slain crime figures have also been buried in gold caskets – a final trademark to their penchant for the finer things in life. Notorious gangsters Carl Williams and Andy Connors are such examples. 
Gold Casket FAQs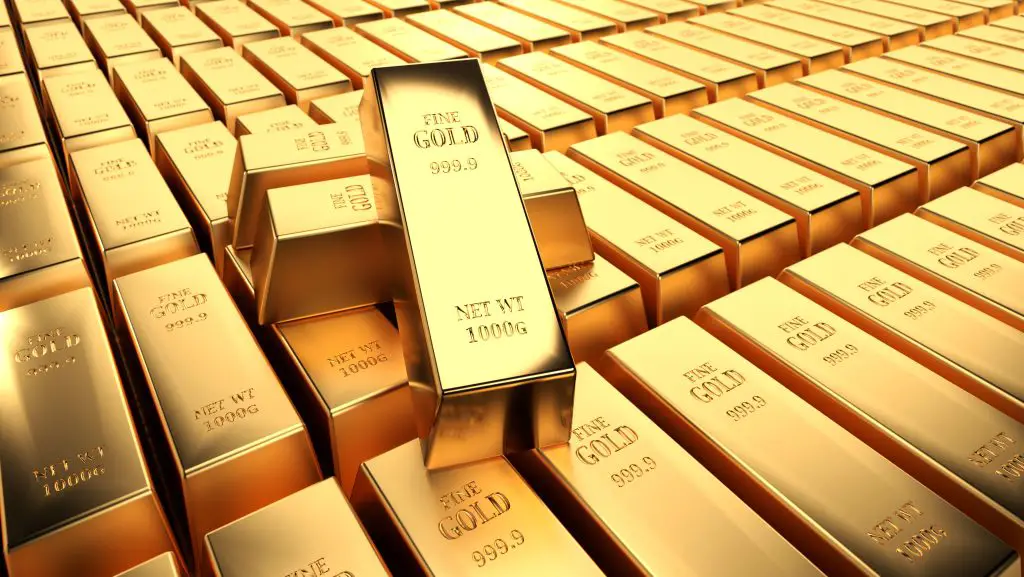 What is the most expensive casket in the world?
A solid gold casket is the priciest casket available at $300,000 to $550,000 depending on the volume of metal used and the intricacy of the hardware.
How much does the Promethean gold casket cost?
The base model of a Promethean bronze gold casket retails from $24,000 and upwards depending on features.
Do gold caskets rot?
Solid gold is one of the least reactive metals and so will not rot. Most "gold" caskets are actually made of bronze, and this material will rust and corrode over time when exposed to the elements.
How much did Michael Jackson's gold coffin cost?
The King of Pop was buried in a Promethean Bronze Gold Casket which costs $24,000 for the base model.
What is the most expensive casket and cheapest casket?
A solid gold casket will set you back a minimum of $300,000, while the cheapest burial container is a cardboard casket priced at around $300.