As consumers turn to more eco-friendly buying habits, green funeral options are gaining popularity. Recent studies show that consumer trends are moving in favor of sustainable products. Along with natural burials and water-based cremation, the uptake of cardboard caskets is growing to meet this desire.
The below guide highlights everything you need to know about cardboard caskets and what to look out for when buying.
What is a Cardboard Casket?
As the name implies, a cardboard casket is a container made of interwoven cardboard that holds the deceased. They come fully-assembled or as a flat-pack that will need to be set up.
Depending on the style, these caskets may include load-bearing handles, a nameplate, and an internal liner. To ensure that materials are biodegradable, manufacturers will use natural rope or fabric for the handles, food-grade glues, and wax-coated interiors.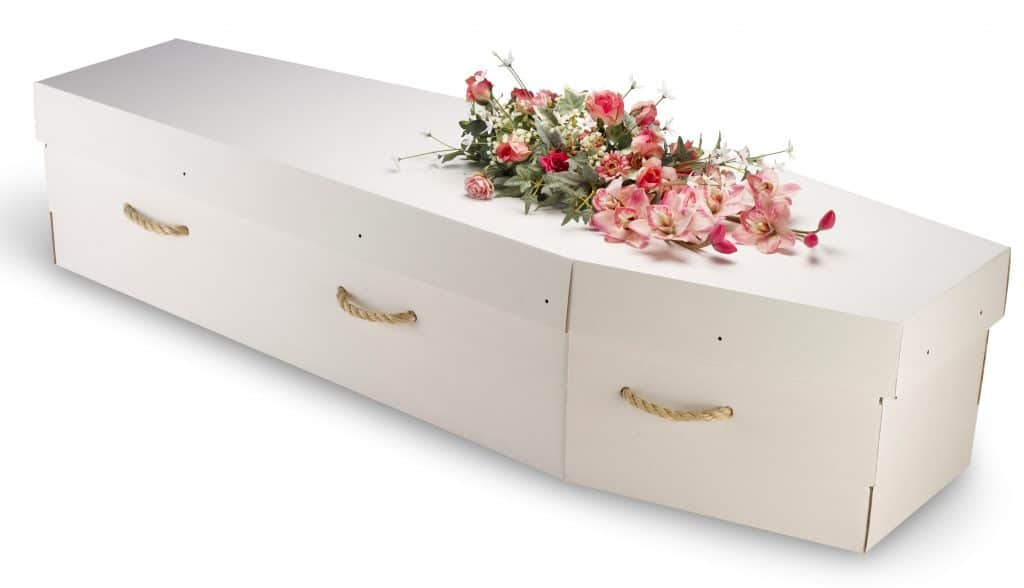 Why aren't cardboard caskets widely used?
While this form of burial container has been available for the past decade, it is uncommon to see one at a funeral. There are many reasons for this:
Cardboard caskets are viewed as unconventional by some. Many families want their loved ones to be laid to rest in higher-end options
Consumers are concerned about how sturdy they are, despite advancements in build quality
Funeral Directors rarely offer them to families ahead of traditional wood or metal-based options
These trends are changing over time as funeral costs and concerns for the environment grow.
Are cardboard caskets legal?
By law, you are able to use any form of container including those made from cardboard. This includes caskets or coffins that are home-made.
Can a cardboard casket be carried?
Yes, as long as you source a cardboard casket that is fitted with handles. You also need to check specifications to ensure that the casket can bear the load of the deceased person.
What if it rains?
Advancements in the design of modern cardboard caskets ensure that they can withstand rain and the elements. Even if they are submerged in water, the structural integrity of the casket would last long enough for a standard funeral service.
What if the deceased needs to be held for a longer period?
In the event of a delayed funeral, you can request that the funeral director keep the deceased in the morgue to preserve the cardboard casket. They can hold off on moving the body until the viewing or service occurs.
This is particularly important if the body is embalmed as fluid leakage is possible. Many cardboard caskets have protective liners that help to maintain the container structure.
Can you be buried in a cardboard casket?
Yes, by law you can be buried in any type of container. Cardboard caskets are actually preferred by natural cemeteries due to their biodegradability.
Can you be cremated in a cardboard casket?
Yes, as long as the cremation container is enclosed, combustible, and rigid. This option is becoming common due to cost-savings and environmental benefits (cardboard cremates with fewer carbon emissions than wood caskets).

How Much Does a Cardboard Casket Cost?
As with all casket or coffin options, the price will vary depending on vendor and quality. The cheapest cardboard casket from an online store or eBay can cost $150 to $200. In contrast, a very sturdy cardboard casket with handles or a customized design can cost upwards of $1000 to $2500 on average.
Where can I buy a cardboard casket or coffin?
Unfortunately, options for direct retail or online purchase of cardboard caskets are limited within the USA (there are more providers in the UK), but one mid-range option from a credible supplier is the Virtue shown below:
Do I have to buy a casket from a Funeral Director?
Consumers are able to purchase a casket independently of a funeral home. If you buy a burial container online or from another vendor, then you can arrange to have it sent to the funeral home. They can not require you to be present for the delivery of the casket or charge handling fees.
What is the cheapest type of coffin?
Cardboard coffins are the most affordable option with prices starting at $150 from online vendors. Other caskets made of bamboo or wicker can be comparable in price. By law, you can also use home-made coffins which may end up being cheaper. 
Tips when Purchasing a Cardboard Casket
Ensuring that you make the right choice can be daunting if you are looking to buy a cardboard casket. To make an informed purchase, these steps outline everything to consider: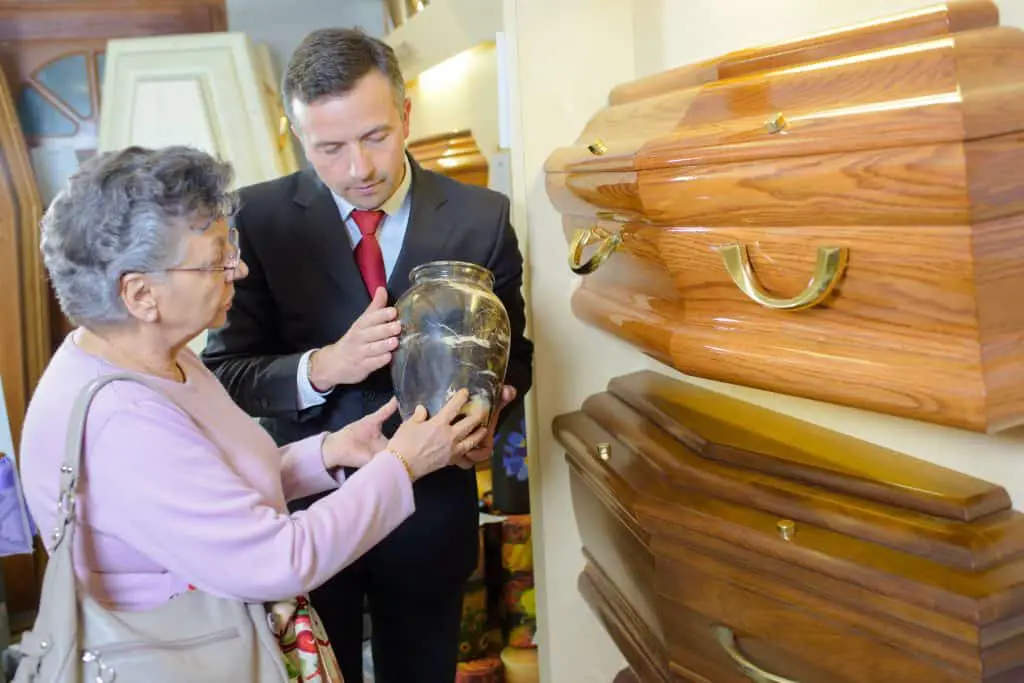 Budget – The amount you would like to spend will dictate many of the below decisions. Remember to factor in extras such as delivery fees and any add-ons.
Casket Structure – Do you want to self-assemble the casket or buy one that is ready-made? Consider how delivery to the funeral home will work if you need to build the container offsite.
Buy for the Type of Service – A basic cremation will mean that a simple cardboard cremation casket or capsule is fine. If the funeral includes a viewing then the casket will need a raised lid with a hinge.
Resting Place Requirements – Does the cemetery specify what kind of casket is permitted? While cardboard caskets are widely acceptable, some burial grounds require a metal nameplate to be included.
Determine Casket Size – You will need to know the measurements of the deceased to assess the right casket size (length and width). It is recommended that caskets are at least 3 inches taller than a body.
Determine Load – Credible suppliers will provide a load test report or accreditation for a cardboard casket. This allows you to cross-check against the weight of the deceased and confirm that the casket is sturdy enough.
Add Ons – If pallbearers are part of the service then the casket will need handles. You can also choose to personalize the shape or style of the cardboard for a fee.
Pick Your Supplier – You can buy caskets through your funeral home, online, or via a third-party vendor such as a local showroom. Online suppliers will generally have the largest range of cardboard options (as the others focus on traditional wood and metal caskets). They are usually the most cost-effective too due to fewer overheads.
Origin – If you are using a cardboard casket for environmental reasons then it is worth checking the manufacturing location. The transit of caskets from remote countries may offset any sustainability gains.
Pros and Cons of Cardboard Caskets
Understanding the pros and cons of a cardboard casket will help you to make an informed buying decision. We've listed the main considerations below:
Pros
Typically more affordable than wood or metal options
Eco-friendly; usually made of recycled materials and is biodegradable
Suitable for all forms of interment including green burials, cemetery burials, and cremation
Sturdy enough to bear the load of the deceased while being lighter for pallbearers to carry
Some suppliers can customize to a desired shape and style (e.g. printed images)
Loved ones are able to decorate the casket as a tribute with messages, photos, or attached keepsakes
Cons
Some styles use plastic liners which undermines the environmental benefits
Higher-end cardboard caskets can cost more than standard wooden options
The structure of the casket is not as durable as a wood or metal container but it will withstand a funeral service and any lifting
Stigma surrounding the use of cardboard as a cheaper option
Types of Cardboard Caskets
As with all types of burial containers, there are a range of models to choose from. Cardboard caskets come in many designs, with popular options including:
Cardboard Cremation Caskets
Also known as cremation capsules, these are the simplest and cheapest form of cardboard caskets available. As it is a legal requirement to use an alternative container for cremation, many choose to buy a cardboard model to meet this rule.
In this regard, cardboard cremation caskets are best designed for direct cremations. Families may rent a more elaborate casket if a funeral service is planned.
Traditional Cardboard Caskets
This form of casket can be used for any form of interment and is on display during a funeral. They are shaped in the traditional casket frame (6-8 sides) and typically have handles for lifting. Many suppliers will offer models where you can assemble the frame yourself.
Luxury Cardboard Caskets
As the name implies, a luxury cardboard casket is a product of quality construction. This option balances sustainability with honoring the deceased in a more regal way. The cardboard is finished with gloss to resemble real wood, while the handles may be metal or brass, and the nameplate will be engraved. Pricing for this type of casket can often surpass that of wood or metal choices.
Customized Cardboard Caskets
Some suppliers offer personalization of a cardboard casket. This is a unique benefit of cardboard as families can request features that best represent the deceased. Options include printing imagery such as photos, sports teams, and flags over the casket. Custom shapes are also possible with car-based forms being popular.
Cardboard Casket for Pets
Pets are adored members of the family and can also be buried in a cardboard casket. Retailers offer a range of shapes for dogs, cats, and even the smallest of pets such as fish. Most of the cardboard casket options for animals require DIY assembly. Some kits even provide matching cardboard headstones or markers.
Frequently Asked Questions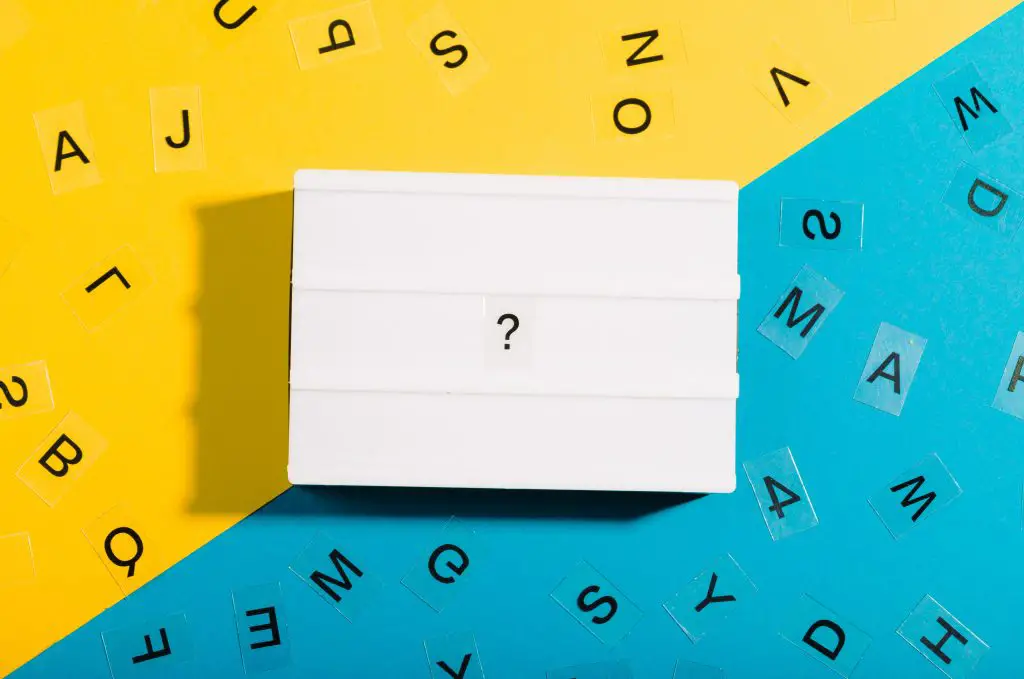 How strong are cardboard caskets?
Quality cardboard caskets are very sturdy and withstand loads of 265 Ibs (120 kgs) or more. Most credible suppliers will provide certified test results that you can verify against weight.
What is the most environmentally friendly casket?
A casket made out of biodegradable cardboard or wicker is the most eco-friendly option. Ensure that the materials are recycled and locally made for the best environmental benefits.
Do you have to buy a coffin if you are cremated?
Most state laws require the deceased to be in an "alternative container" for cremation. This does not have to be a coffin as long as it is sealed and rigid. Cardboard or plywood cremation capsules are popular options.
How much do cardboard caskets weigh?
Cardboard caskets typically weigh between 19 to 25 pounds, depending on the size and quality of the container.