The cost of a headstone varies widely depending on size and stone quality
Expect to pay a minimum of $500 to $3000 and upwards
The average price of a headstone is approximately $2000
It's not unusual for a headstone to take months to complete
This site contains affiliate links, meaning that we earn a small commission for purchases made through our site. We only recommend products we personally use or have thoroughly reviewed.
When you are dealing with grief and stress from planning a funeral, the pressure of choosing a headstone can weigh heavily. It is important to make an informed decision as this forms a lasting tribute for your loved one. Choosing a memorial type can be confusing for someone who hasn't faced death, so knowing what to budget for and what a headstone costs upfront is critical.
This complete guide details everything you need to know when sourcing a headstone and explains how small decisions can make a big difference in pricing. You will also learn what to look for, ask, and avoid when making a choice.
What to Know Before Buying a Headstone? (Buyer's Guide)
First of all, consumers need to understand the terminology when seeking a monument provider. In the funeral industry, the terms headstone, grave marker, gravestone, and tombstone are often used interchangeably. This does not mean they are the same thing, although they serve the same purpose of being a lasting plaque viewed when you visit your loved one.
Where do I start?
Once you have confirmed where your loved one will be buried, you should check the cemetery's regulations. This ensures that you avoid costly mistakes as there are likely to be restrictions on the type of headstone you buy. For example, an upright headstone may not be appropriate for the burial plot chosen due to its size. A larger cemetery will usually also have different requirements for each section.
How long after burial can a headstone be placed?
Grieving families often feel the pressure of getting everything done at once following a death. It may provide some comfort to know that buying a headstone does not need to occur straight away. In fact, some headstones take up to six months to be created.
There are no hard rules on timing, but this is something you will need to double-check with the cemetery as they may have regulations on the timeframe. Certain religions also have customs around burial which can impact how soon you will need to act. For example, some Jewish traditions hold an "unveiling" ceremony of a grave marker within a year of burial.
Do I have to buy a headstone from the cemetery or funeral home?
No, you are free to shop around and find a provider that best suits your needs. As long as your headstone fits the regulations for the grave then it has to be accepted. If the funeral home or cemetery has advised you otherwise, then you can file a complaint with the Federal Trade Commission. Do not feel pressured to make a decision unless you prefer to do so out of convenience.
Where to buy your headstone from?
There are various suppliers you can consider when purchasing a headstone. The funeral home and cemetery are likely to present some options to you, but you are also free to consider direct monument companies or online providers. The cemetery is typically the most expensive of these suppliers. You can also order headstones at a lower cost from Amazon – here are some we found:
If you do end up purchasing from a funeral home, ensure that you are across the Federal Trade Commission's Funeral Rule. This rule denotes that you can choose only those goods and services you want rather than be pressured into package options.
Who is responsible for installing the headstone?
This can usually be done by the monument company or the cemetery for a fee. It can also be incorporated into the total quote. Note that cemeteries can have strict rules around the installation (e.g. how the foundation is set and where the marker is placed) and you should ensure that the provider is able to meet these specifications. If you are engaging a local monument company, then they are likely to have experience with nearby burial facilities, just ask!
What's included in the price of a headstone?
A quoted price will usually include the headstone and engraving with a limited number of characters (extra wording or images at a cost). Whether they include delivery and installation fees will vary between suppliers and customer needs.
How long does it take to complete a headstone?
This can vary significantly based on the type of stone you have ordered. If your monument supplier has inventory of the chosen material then a headstone can be produced within 1 to 2 months. If you have selected a unique stone that needs to be imported then it can take about 5 to 6 months.
7 Must-Ask Questions When Buying a Headstone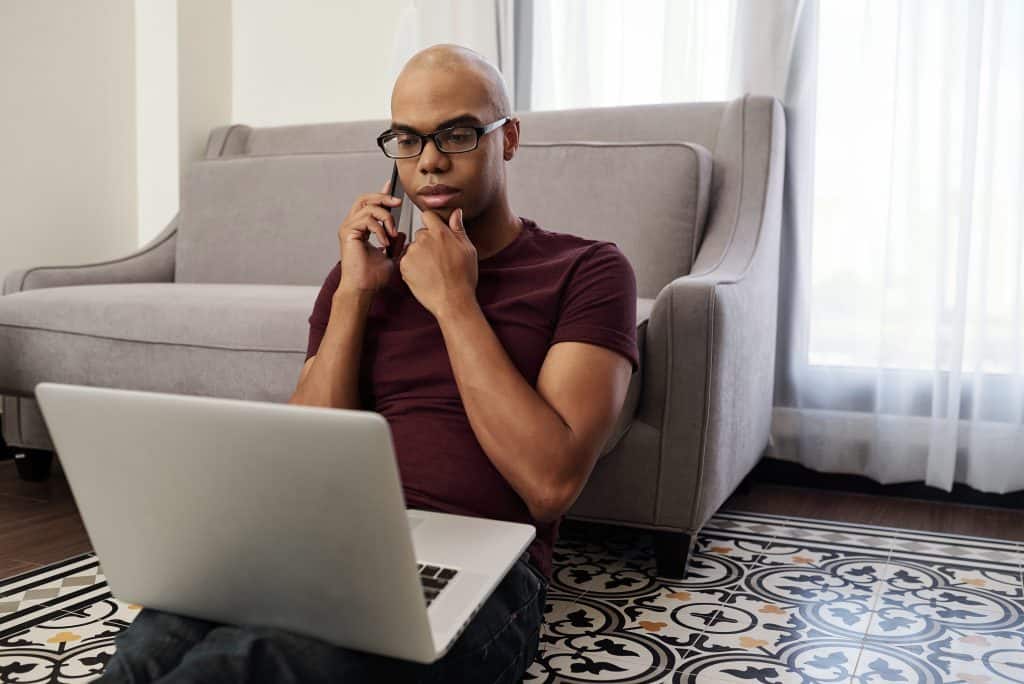 1. What is included in the total headstone pricing?
Check if the quote includes delivery, inscription, and installation or cemetery setting fee. When shopping around, a seemingly cheaper option with one provider may end up being more expensive as they haven't disclosed the extra costs.
2. Are you a member of the American Institute of Commemorative Art or the Monument Builders of North America? 
When looking for a quality provider, these members tend to adhere to strict professional standards. You can also use the online membership directory of these associations as the first point of call when seeking a supplier.
3. Can I view a design mock-up of the headstone?
Some monument providers have software that allows you to visualize the end product. This can be very helpful when deciding between stone colors and suitable engraving that matches.
4. Are you familiar with the regulations of the cemetery?
Having local knowledge can be invaluable to ensure that you avoid expensive mistakes such as size restrictions or poor installation.
5. Can I visit the headstone factory or showroom?
If ordering locally, you should ask to attend in person if the monument provider allows it. A true headstone dealer will have an actual location and headstones on display. This enables you to view headstone samples and stone in person as brochures may not provide an accurate reflection of quality.
6. Can you provide samples of headstones erected many years ago?
Nature can have a harsh effect on headstones that are exposed to the elements. Depending on how long a company has been in business, asking if they can show you memorials that are decades old will inform you whether they are using quality stone and workmanship.
7. How long will it take to produce the headstone? Are delays common?
A provider is generally incentivized to provide a finished product so they can be paid in full. However, unforeseen delays can push out the timeframe significantly (e.g. caused by stone chipping or importing issues at customs). This can be stressful for grieving families given their desire to finalize the burial, in addition to timing pressures from the cemetery to erect a marker.
Breaking Down the Cost of a Headstone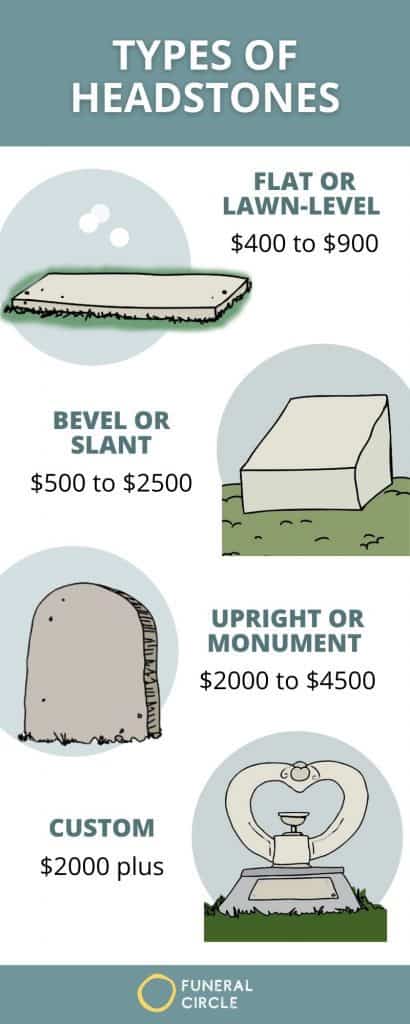 Families are often surprised when quoted for a headstone that can range in the thousands. Understanding why the pricing appears inflated can help when making buying decisions. There are many components that contribute to how much a headstone costs:
Type of headstone and size
In general, the larger the headstone and the more complex the design, the higher the cost. Most of the styles can also be adapted to "companion" sizes for couples or loved ones who will eventually lie to rest together. There are various memorial styles available with the main types being:
Flat or lawn-Level
A basic flat rectangular marker that sits level with the ground. These typically range from $400 to $900.
Bevel or slant
These markers sit a few inches above the ground to resemble a pillow effect or are slanted on top for ease of viewing. Typical pricing can range from $500 to $2500 plus depending on materials and size.
Upright or monument
This is the traditional design with an upright tablet or cross headstone placed above a concrete base. Pricing for this type of monument sits at an average of $2000 up to $4500.
Custom
Some headstone providers specialize in unique designs that can cost many thousands of dollars. Examples of custom monuments include heart-shaped markers, three-dimensional angel statues with vases, and even whole mausoleums or tombs on the pricier end.
Type of stone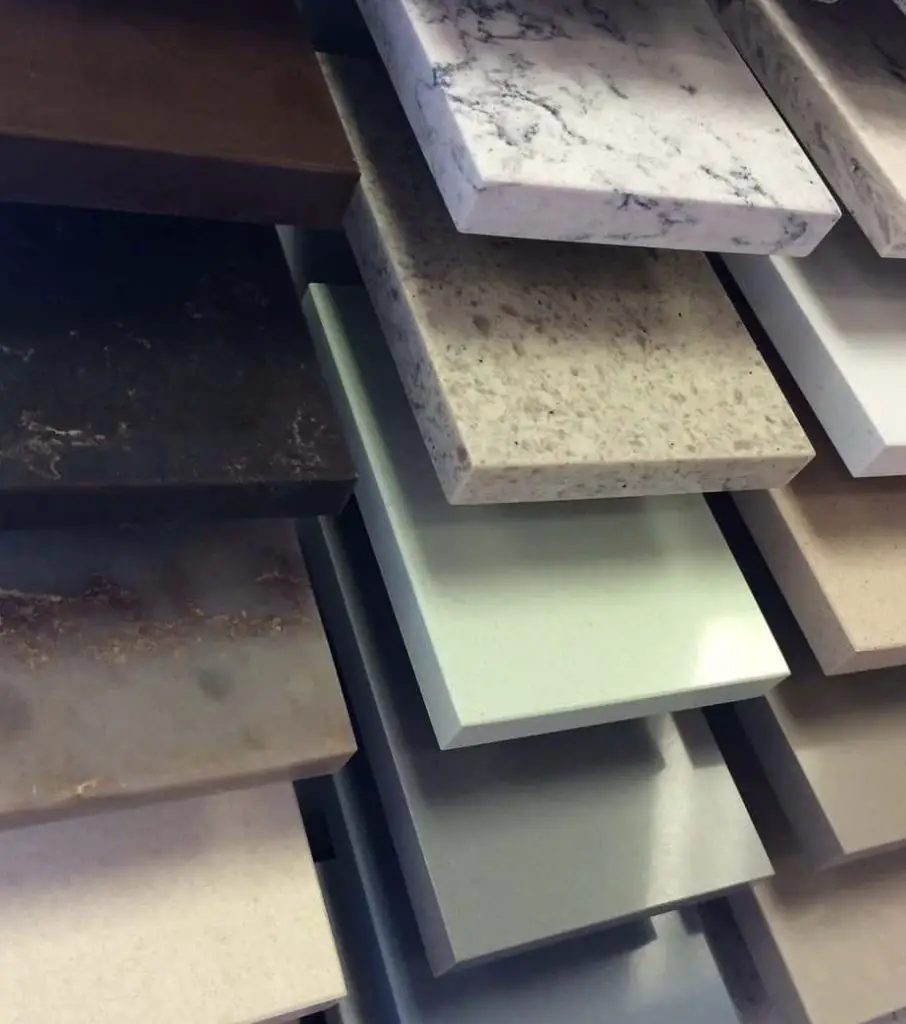 The type of stone used for a headstone has the greatest impact on cost. Granite is the most popular option due to both its durable nature and affordability. Headstones made of bronze, limestone, or marble are also common but they are more premium materials. Further factors which can influence the price include:
Stone quality or grade
Higher graded materials will be more resistant to the weather and elements. They are also less likely to discolor, fade, or crack over time. Poor quality stone can vary in density and result in an inconsistent finish, particularly after polishing.
Color
Gray is the standard color chosen for headstones and is more readily available. Due to this, it is usually more cost-effective than other options. Markers commissioned in unique red or blue granite colors are less common in quarries and will attract a premium along with import costs.
Texture
The degree of uniformity in texture, along with the coarseness or fine-grained nature of the stone will also vary final pricing.
Type of finish
In addition to the design and stone chosen, the type of finish applied to your headstone will impact pricing. The finish can also impact the durability of your marker and this should be explained to you by your provider. The following options are most common, with some specialty finishes ranging at the pricier end: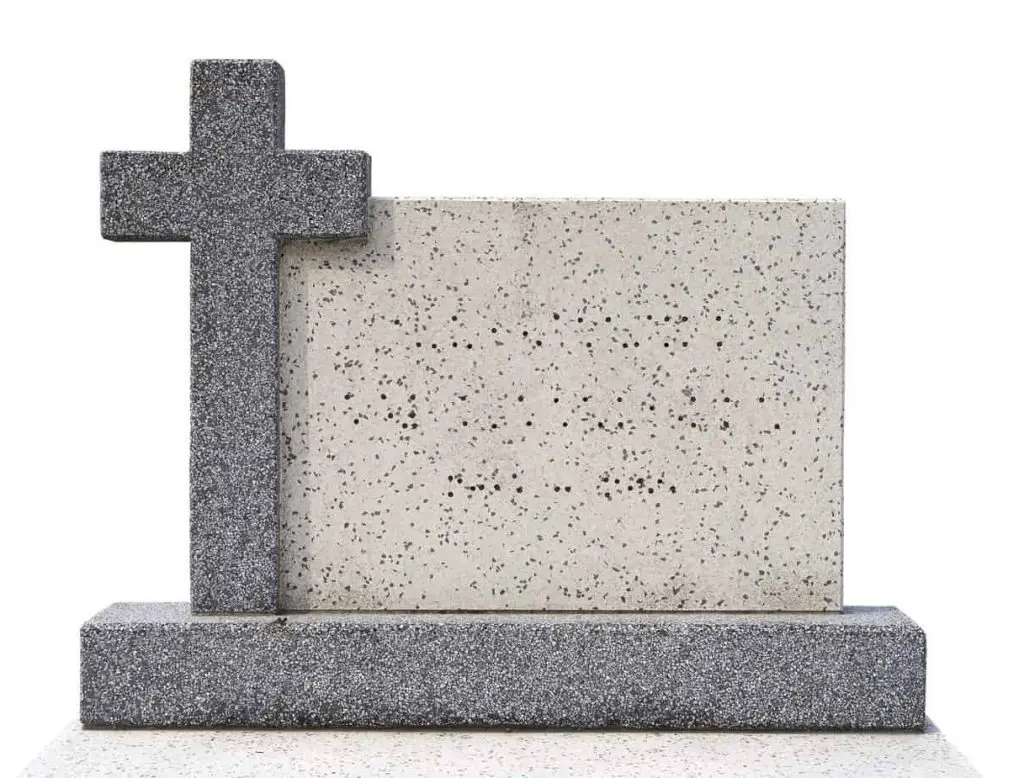 Polished
Smooth and shiny in appearance. There is also a semi-polished option where stone is only finished where the inscription is. Note that some cemeteries do not allow polished headstones as they can reflect sunlight. They also need more maintenance and cleaning.
Rock-pitched
Rustic and rougher finish achieved with a hammer and chisel. This style is common in older graveyards.
Frosted or steeled
A smooth surface achieved by the use of a steel shot. This is a good option for those who prefer a polished look without the reflectiveness.
Sawn
Semi-smooth and handcrafted in appearance. This finish is achieved using a diamond saw or wire blade against the stone.
Specialty
There are other less common finishes that can be used. These include honed (semi-polished and smooth using dust), axed (chiseling to achieve a lightened frost look), and shell rock (used to create a border or picture frame).
Headstone engraving
Most monument providers will include a certain number of engraved characters in your headstone quote. This will usually cover enough to detail your loved one's name, birth date, and date of death. If you would like to add extra wording such as a bible verse or epitaph, then it will be charged on a per-character basis.
The average rate for headstone engraving is $20 to $25 per character for the first 20 and roughly $10 for each one thereafter. This price is based on the most popular method – sandblasting, while hand-cut methods can easily be double the cost. Modern laser-etching is the cheapest form of engraving and can also be used to etch a photo. Note that laser methods need a durable stone to be used and this may offset any cost gains.
Further aspects that can impact the price to engrave headstones include:
Use of complex fonts or larger text
Inlays or icons such as religious artifacts, symbols, and flowers
Scroll or framing designs
Whether the engraving occurs in the factory or on the gravesite (e.g. adding wording to a double headstone. There will usually be a cemetery fee for this)
Headstone accessories
As a final way to personalize a headstone, you may choose to add an accessory to your design. Common options include:
Ceramic headstone pictures. These are mounted onto your marker and start from $200
Granite or marble vases ranging from $200 to $400
Custom stone statues which range from $500
Eternal lights that glow in the dark, costing from $50 upwards. These come in wide shapes and sizes, including angels and religious symbols
Smaller accessories such as flower or wreath rings and flag holders. These are generally affordable and cost less than $100
Are there any additional costs?
The average prices detailed in this post are just a general starting point. There are some extra headstone costs, with some being ongoing, that you may not expect. These can include:
Cemetery permit fees
Delivery costs
Installation costs ($300 to $850). Medium to large-sized markers also needs concrete foundations which will cost extra. This fee is usually determined by the cemetery
Funeral service charge or commission. This may apply if the funeral home helps to coordinate the purchase of the burial plot and headstone on behalf of the family
Certain US states mandate a one time "perpetual care" fee for reinvestment in a maintenance fund (5% to 15% of the grave price). This will not cover care for the headstone, but rather funds the cemetery repairs and landscaping of the grounds
Headstone maintenance fees. This may be charged by the cemetery as part of the burial terms. Where there is no requirement to engage the cemetery, you can either maintain the headstone yourself or engage help from professional cleaners ($50 to $150)
Headstone restoration costs. As the marker is exposed to the elements, this may result in wear and tear of details over time. A typical restoration can start from $200 and upwards depending on the nature of the damage
How to Save Money on a Headstone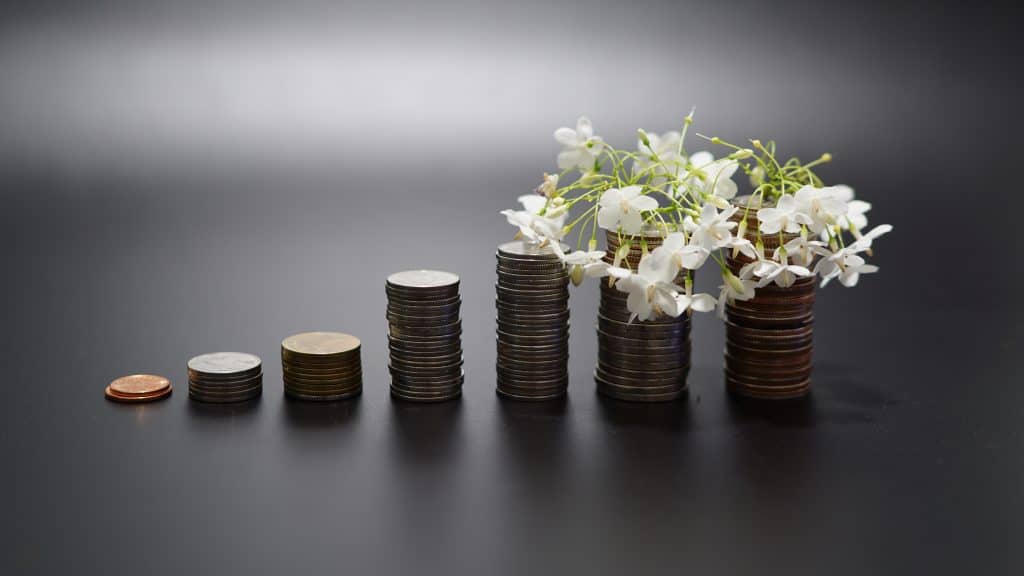 Once you have reviewed the cemetery rules for your plot, you can start looking for headstone options within your budget. Remember that a cheap headstone does not mean that it has to be poor quality. Your loved one can still have a beautiful marker that doesn't cost the world. Here are some tips when decision making:
Go direct
While this may require more work on your end, bypass the headstone options presented by the funeral home and cemetery and go direct. See if there are local stonemasons or credible online suppliers that suit your needs. This will cut out the middleman along with likely commissions or mark-ups. Engaging a local provider will also mean that delivery costs are minimized. Headstones can be quite heavy and online postage costs can add up.
Keep it simple
You can take this approach when deciding on design elements such as engraving or any symbols. As monument suppliers charge by the character, choose succinct text and avoid elaborate designs.
Keep it small
While a flat or bevel marker is the most obvious and affordable choice, you can still source an upright headstone for a reasonable price. Opt for the smaller monuments (subject to minimum size cemetery requirements) and pick a basic finish that is applied only to the front and back of the stone. You'll end up saving money on polishing for the sides and this isn't so obvious anyway.
Go with the crowd
Choosing a popular stone means that your supplier is likely to charge less for materials. This is because they can buy cheaper in bulk and have slabs in inventory so you can avoid import fees. Quality granite in grey or similar standard color will provide a classic look for a fair price.
Skip the extras
Unless you are really keen on an accessory, it's best to bypass costly add-ons such as stone vases or frames. More and more families are opting for minimalist, clutter-free markers. This will put a few hundred back in your pocket to spend on flowers for your loved one!
Check for benefits
If the deceased was a United States Veteran, then they may qualify for a free headstone along with funeral service benefits. Some cemeteries also reserve plots for Veterans so it is worth checking if they are eligible for a military headstone.
Change of plans
Paying for a burial plot along with the marker, permits, and maintenance obligations may be too overwhelming in the end. For this reason, more and more Americans are being cremated or choosing to have a natural or green burial. In both cases, there is no need for a headstone and costs will be substantially lower for disposition.
Do it yourself
Some people are quite handy and endeavor to take on engraving and installation themselves. While this is possible in certain cases, cemetery headstone standards can be very strict. If you make a mistake it can easily end up costing you more money to fix along with your time. The DIY route is not recommended in this instance, we have come across headstones that have been damaged beyond repair!
Final Thoughts
There are many options out there for the savvy headstone buyer. Keeping things minimal often results in a classic and affordable marker without compromising on quality. As long as you do your research when asking what does a headstone cost, you'll know how much to budget for upfront.
What Does a Headstone Cost FAQs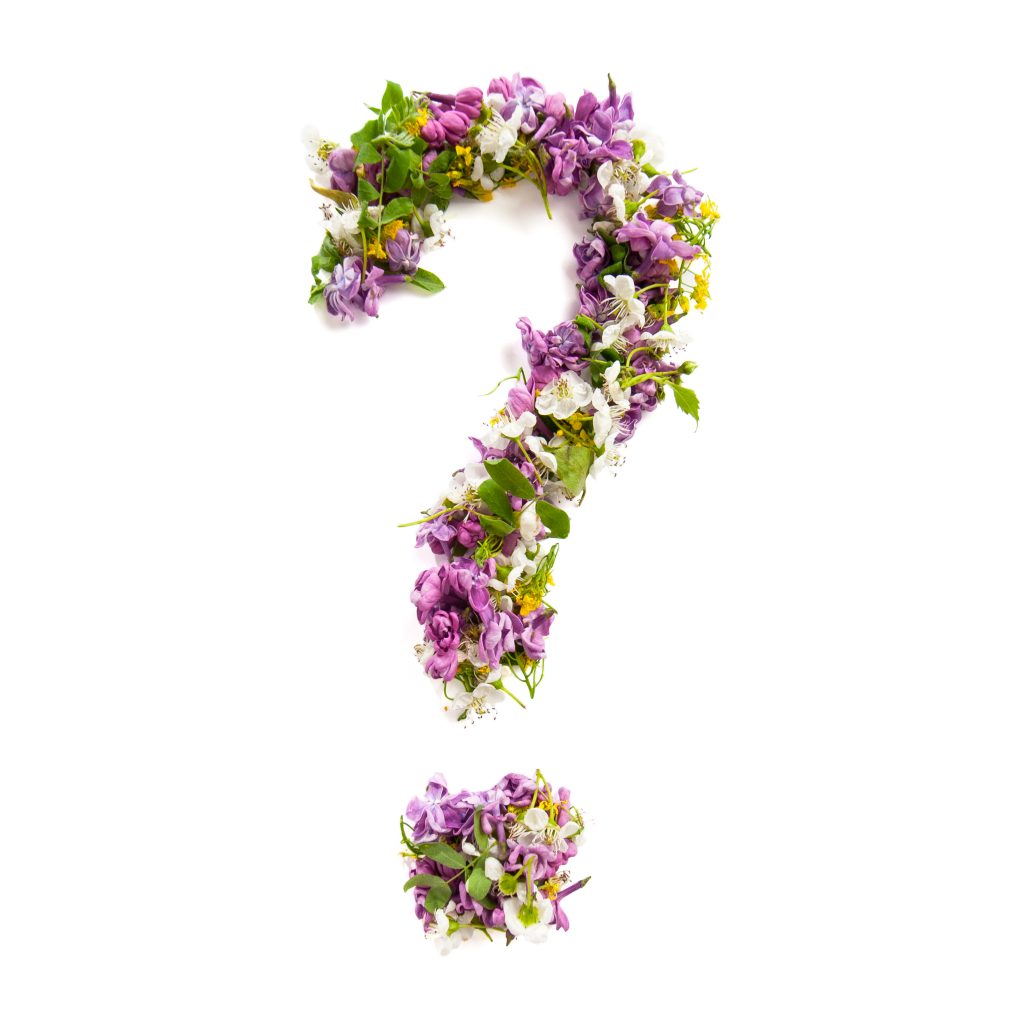 Can I buy my own headstone while I'm living?
Yes, this is becoming increasingly common as people plan their funerals in advance. This will take the pressure and stress of planning away from your family while they are grieving. A marker that is organized before death is known as a pre-need headstone.
Can you make payments on headstones?
Yes you can. Given the cost of a headstone, many suppliers offer financing options to ease the burden. You can also pay a deposit (usually 50%) up front and the rest when the headstone is finished.
How much does a double headstone cost?
Double or companion headstones start at $800 for lawn-level markers, while pricing for upright styles ranges from $3500 depending on the design.