The average casket size is 28″ inches wide by 84″ inches long
Consumers also need to align casket dimensions to the grave and burial vault
There are flexible options if the deceased does not fit in a standard casket
This site contains affiliate links, meaning that we earn a small commission for purchases made through our site. We only recommend products we personally use or have thoroughly reviewed.
Picking a burial container is more complex than first thought. Alongside price and material decisions, you'll quickly find that casket dimensions are critical to getting right. We've answered your questions on average casket size, and listed the key buyer steps to ensure that everything fits. 
What Size Casket Do I Need? [Step by Step Considerations]
Buying a casket is not just about picking something that looks nice at a fair price. You'll need to ensure that the casket size will fit the deceased, the burial vault, and the grave. Follow our measurements below to navigate your purchase with ease:
Measure the body of the deceased
The majority of adults will fit into a standard-sized casket. If the deceased is shorter than 6'10" and weighs under 350 Lbs then they are in the average range where a standard casket can be used.
If you are unsure of the specifics, we strongly recommend that you ask the funeral director or mortician to measure the body (they do this a lot!). The deceased is measured from head to feet in terms of height and from elbow to elbow for width. This enables you to pick an appropriate size when compared against internal casket dimensions. 
What is the standard size of a grave? 
A standard grave is 30″ wide by 96″ long with a depth of 72″ deep. These dimensions include both the burial plot and headstone, with the measurements set by the International Cemetery, Cremation, and Funeral Association. Most cemeteries will provide a range of grave size options depending on need and budget.
What is the standard size of a burial vault?
To prevent the grave from collapsing under weight pressures over time, most cemeteries require that caskets be interred in a concrete burial vault or grave liner. While dimensions will vary between styles, a standard burial vault will measure 30″ wide by 90″ long with a depth of 35″ deep (externally). 
What Are Standard Casket Dimensions? 
Modern caskets come in four main sizes – standard, oversized, child, and infant-sized. While variations exist between these standards, we've detailed the average measurements of caskets below. Make sure you refer to the supplier's guidelines to confirm dimensions before buying.
Standard Casket Size
| | | |
| --- | --- | --- |
| Casket Type | Interior Dimensions | Exterior Dimensions |
| Wood Casket | 22″W x 76″L | 28″W x 84″L |
| Metal Casket | 23″W x 78″L | 28″W x 84″L |
The majority of caskets used for burial are made of wood or metal. These containers will fit an averaged sized adult who is up to 6'10" in height and 350 Lbs in weight. 
The exterior measurements of a standard casket are the same regardless of the material used. This is so that they will fit into a burial vault – a concrete outer container that lines the gravesite to prevent sinkage. See our guide on burial vaults for further context.
While the outside dimensions of a casket are the same, the interior sizing will differ. As wood paneling is typically thicker than metal, there is slightly less room inside as a result. While this isn't a big difference, it may be worth considering a metal casket if the deceased has a larger frame. 
Oversized Casket Dimensions
| | | |
| --- | --- | --- |
| Casket Type | Interior Dimensions | Exterior Dimensions |
| Oversized Casket | 28″W x 83″L | 28.5″W x 84″L |
| Double Oversized Casket | 38″W x 85″L | 38.5″W x 86″L |
As the name suggests, an oversized casket is tailored to fit individuals who are either too tall or wide for a standard model. While tailor-made options are available, many casket suppliers offer oversized containers in off-the-shelf models. 
A key consideration for those using an oversized casket is cost. Larger caskets (more than 29″ inches wide) will likely require a larger burial vault and grave. Each of these elements increases in pricing with size, with a bigger grave being significantly pricer!
Alternatives to Oversized Caskets
If cost is a concern for oversized individuals then there are other options available. These include:
Using a standard casket if the deceased is only slightly larger than average. An experienced mortician can help with this when preparing the body for burial (e.g. they may bend the knees or change the resting position). You'll need to ensure that the weight limitations of a casket are adhered to even if the person will fit
Opt for cremation as a cost-effective form of disposition. While you won't need a proper oversized casket, a rigid combustible container must be used such as a cardboard casket
Renting an oversized casket. This will be slightly cheaper as a more affordable container can be used for burial after the funeral service
Use a burial shroud. This fabric cloth is used to wrap a body in preparation for burial (in a green cemetery) or cremation in place of a casket. If a viewing or funeral service is held then a casket rental may be necessary when using a shroud
Children's Casket Dimensions
Infant and child caskets are made in a variety of dimensions to fit individual ages. Within this range, the interior size for a children's casket starts at 30″ inches in length by 12.5″ inches wide. Caskets are also available in mini versions for premature babies up to pre-teen size. 
Teenagers or larger children are often buried in standard-sized caskets that are used by adults. There is no difference in the materials used for children's caskets compared to adult and oversized containers.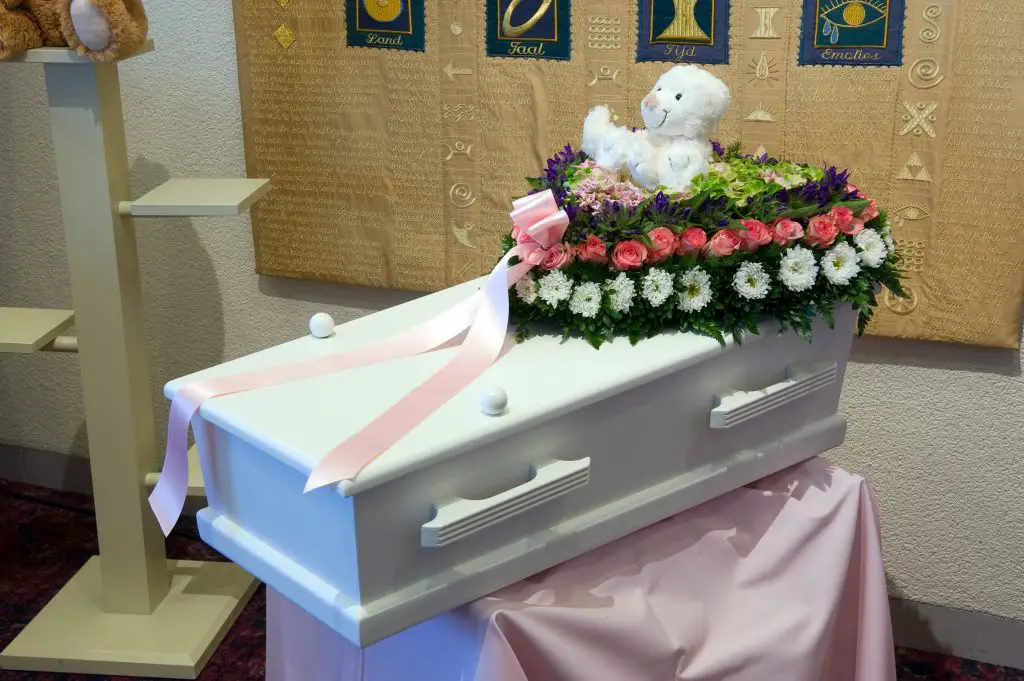 Other Considerations
If you plan on decorations for the funeral service then knowing the casket dimensions will help. Some examples of items that need measurements include casket panel inserts and casket sprays. 
What is a casket head panel?
A head panel forms part of the casket interior that is visible when open. This area is commonly used to display inserts with images, wording, or embroidery relating to the deceased. The average casket head panel size is 30″ to 32″ wide and 14″ to 17″ tall.
How big should a casket spray be? 
Casket sprays are large floral displays that usually cover half of the casket. If the casket is closed, a spray can cover just under the full length of the lid. 
Casket spray dimensions
A half-sized casket spray measures 14.5″ high x 32″ wide. A full-sized display (full couch) is approximately 14.5″ high x 40″ wide.
Casket Dimensions FAQs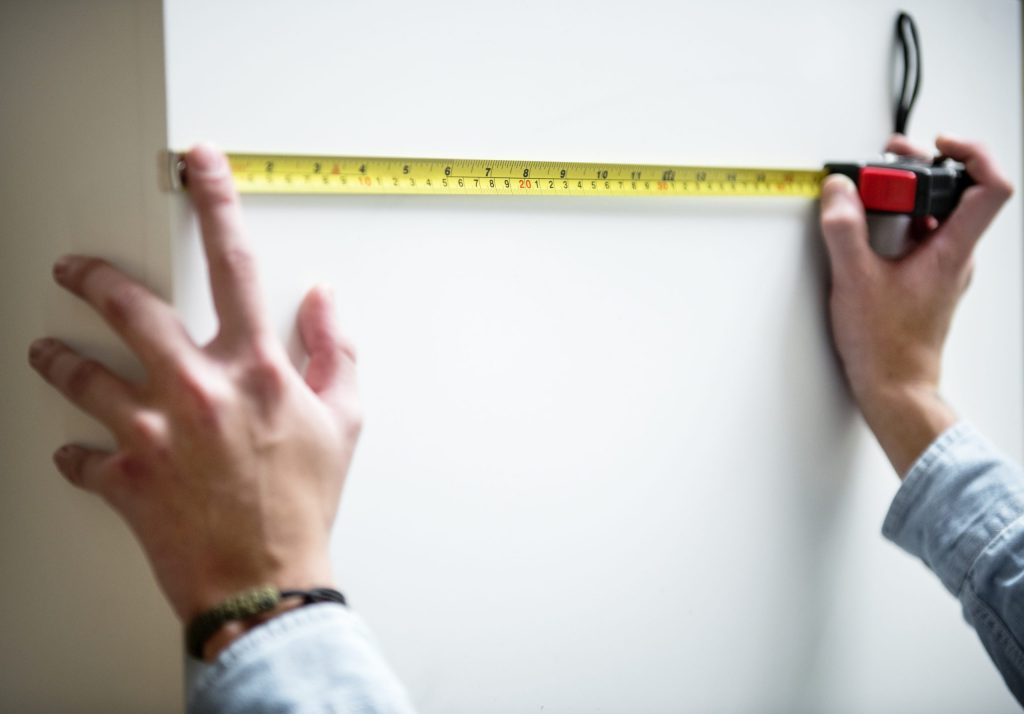 Are all caskets the same size?
Caskets vary in size depending on the body frame of the deceased. While there is a standard adult casket, other options exist such as child and oversized burial containers.
Do they break your legs to put you in a casket?
No – this is a common myth. Morticians will adjust the resting leg or knee positions of a corpse to fit into a casket. Breaking a leg is highly invasive and impractical, particularly when a larger or oversized casket can be used instead.
Can a tall person fit in a standard coffin?
Depending on the height of the deceased, a mortician can make various adjustments to ensure they fit in a standard coffin. This may include removal of any shoes, bending the knees, adjusting the interior cushioning, or framing the legs in a spread-eagle position. There is more flexibility to use a standard coffin if a viewing isn't planned.
How deep is a casket?
The average depth of a casket is 16 to 23 inches tall. This sizing will differ based on the type of container used (e.g. metal, wood, oversized, and children's caskets).
How many bodies can go in a grave?
This depends on the type of burial plot and regulations of the cemetery. An average family gravesite can have up to six bodies, while plots for cremated remains will house four to six urns.