For those who are deciding where to keep a loved one's ashes, a columbarium may be a good option. This article details what a columbarium is, key tips to know before buying, and what you can expect to pay.
What is a Columbarium?
A columbarium is a structure with inbuilt niche spaces that store cremation urns. This final resting place can be a wall, room, or standalone building. Commonly made of granite or marble stone, a columbarium may be part of a cemetery, temple, or church.
Where many structures are located together, they are referred to as columbaria.
What is a Columbarium Niche?

Also known as a burial or cremation niche, a columbarium niche is a shelf or compartment within a structure where inurned remains are housed. A columbarium may have niches on both sides for ease of access. 
Each niche will usually have a plaque that serves as an identifying marker. This plaque may sit below, above, or completely over the niche to enclose it. Where plaques are not in use, the structure will be marked with numbers for each row and column.
Many columbarium niches also have a space reserved for floral tributes or personal mementos. There are even larger options for those who wish to inter the ashes of couples or families together.
History of the Columbarium
The columbarium was first observed on rooftops in ancient Rome, modeled from sectional housing for birds. This explains the roots of the Latin term columba which means dovecote or dove house. For human remains, the Romans built underground niche chambers to store decorated urns.
The use of columbariums then expanded in ancient Asia within the Buddhist faith. These structures were built to resemble temples and ornate resting places.
How Does a Columbarium Work?
A columbarium serves as a popular and affordable way to store remains. After the cremation of a body, the ashes are placed into an urn which is then "inurned" or fixed into a niche. This is undertaken by cemetery staff and usually occurs during an interment of ashes ceremony.
How Much is a Niche for Ashes?
While pricing will vary depending on location and design, the average cost of a single columbarium niche in the United States is $850 to $2200. This includes admin costs, cemetery upkeep, and inurnment. Factors that can impact the price of a niche include:
Size of the niche. Couple or family-sized compartments will cost more
If the niche is purchased in advance or at-need (at the time of death). It helps to be prepared as immediate processing can attract a 15 to 20 percent charge
Day of inurnment (placement of remains into the niche) may attract a surcharge on busier weekends
Cemetery or columbarium purchase fees
Endowment care fees for cemetery maintenance
If the columbarium is indoors or outside. Indoor niches are generally more expensive due to maintenance and protection from the elements
High demand locations such as major cities or areas with limited land will cost more
Whether the niche requires a basic marker or higher-end plaque with engraving
The inclusion of extra elements such as a vase or shelving space for frames or keepsakes
Row or height of the niche. Those at eye level typically come at a premium compared to lower shelves
Columbarium Niche Dimensions
A standard sized single columbarium niche is 9 inches cubed. This is considered to be the smallest space needed to accommodate an urn. 
Note that niche design and size will vary between locations. Ensure that you check exact measurements with the cemetery before purchasing an urn.
Pros & Cons of Columbarium Niches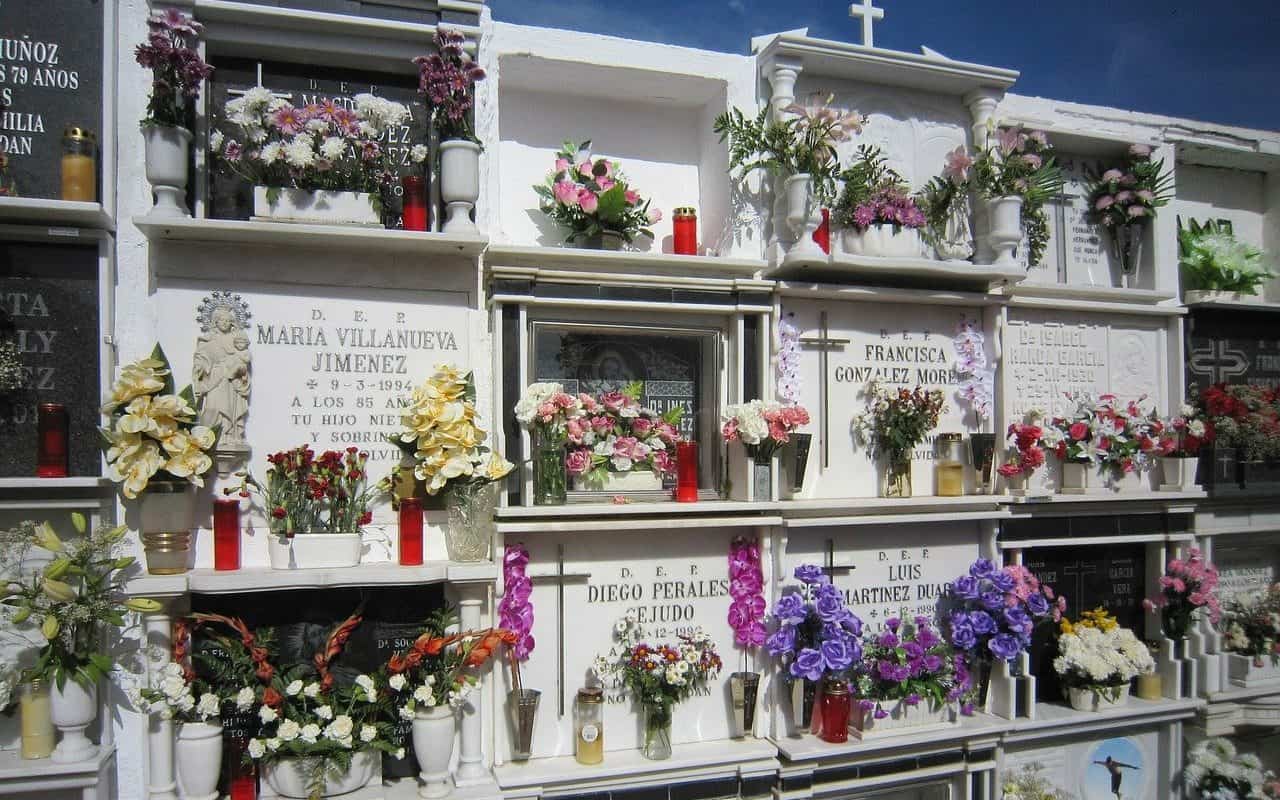 There are many reasons why a columbarium burial may be a good choice. While this approach is more popular in some countries, cremation rates are growing along with niche use. Below are the main pros and cons of a columbarium:
Pros of Columbarium Niches
Provides a space for loved ones to visit
Quicker process compared to burial and can provide the grieving with closure or comfort
Indoor or covered columbariums allows visitation in any weather condition
Cheaper than the burial of ashes or a body (usually ⅓ of the price)
Ease and cost-effectiveness of transporting ashes compared to a corpse
Able to inurn couples or families together
Acceptable under Catholic doctrine
Maintenance of columbaria is cheaper than burial grounds
More eco friendly compared to traditional burial. It uses fewer resources, and no synthetic materials or embalming fluid are dissolved into the soil
Easier to delay inurnment compared to a burial if families need to travel for the service
Some columbariums allow niches to be leased (e.g. on a 5 to 10 year basis). This allows greater flexibility if the family prefer to change location over time
Cons of Columbarium Niches
Cremation is not condoned in some religions
More expensive than scattering remains or keeping them at home
Burial is viewed as more acceptable by some
Can lead to family disagreements on approach
No large headstone to memorialize the deceased. A small plaque or identifier is used for each niche
The cremation process results in large carbon emissions, although other methods can reduce this
Where are Columbariums Located?
Columbariums or cremation niches are located in various places. This can include:
Cemeteries
As part of a crematorium
In a columbarium garden
Indoor crypts or in the grounds of a church
In a Buddhist temple
Outdoor monuments
Types of Columbarium Niches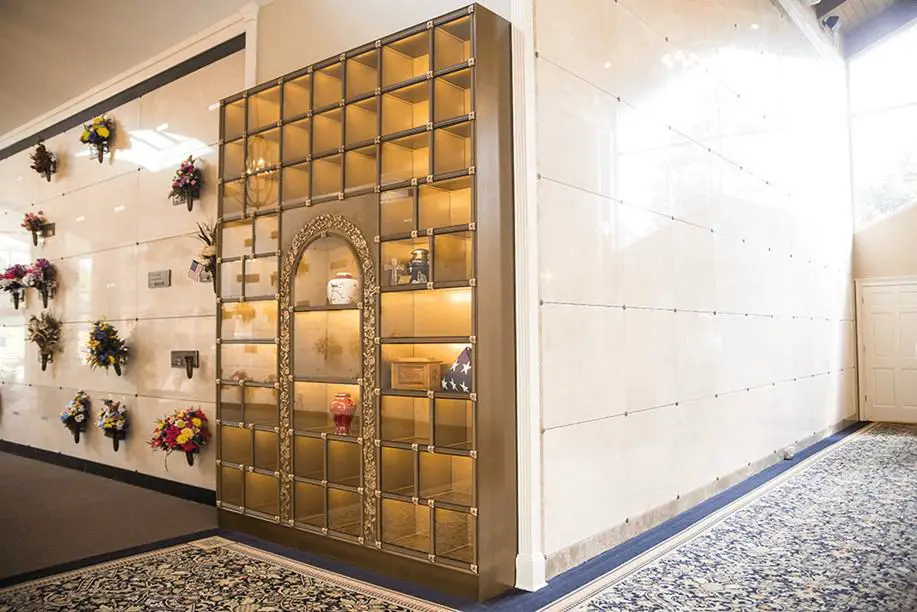 As well as selecting between an indoor, outdoor, walled, or housed columbarium, you can also pick the desired niche type. Many families value this ability for personalization. The most common selections include:
Granite or Marble Front Niches
Contained within both indoor and outdoor stone columbariums, these niches are the most common style. The front of each marble or granite niche is sealed with a bronze or metal plaque engraved with names or epitaphs. 
Glass Front Niches
This type of niche is only located within indoor columbaria for protection from the elements. As the name suggests, glass front niches enable the contents within to be visible. This allows the family to place items such as photos, keepsakes, and flowers alongside the urn.
Memorial Bench Niches
A less common option to store cremated remains is within a memorial bench. These granite-based benches can hold up to two urns alongside bronze plaques. Given space requirements and the size of the memorial, a bench niche is more expensive than traditional columbariums.
What is the Difference Between a Mausoleum and a Columbarium?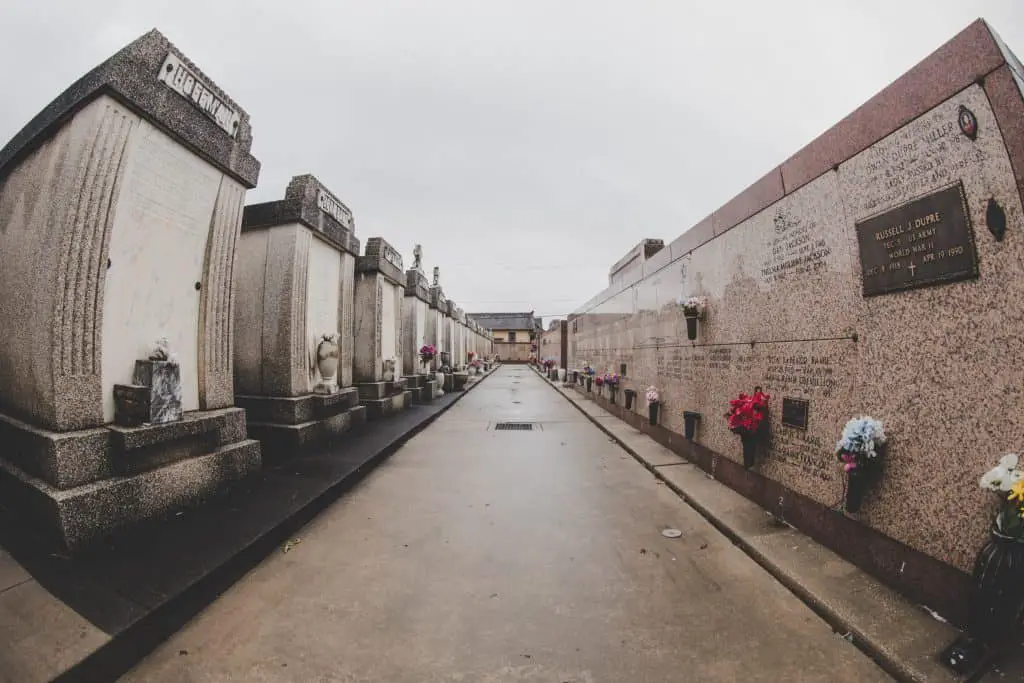 These terms are often confused with each other as these above-ground structures look similar in form. While both a mausoleum and columbarium serve as final resting places for the deceased, they differ by type of remains stored.
A mausoleum is a tomb or vault used to house casketed bodies.
A columbarium is a structure that contains niches to house inurned cremated ashes of the deceased. 
Note that some memorials will combine a columbarium with a larger mausoleum. This allows both whole human and cremated remains to be housed within the same structure – and cause further confusion!
Alternatives to a Columbarium
While choosing to use a columbarium has its benefits, it may not suit your circumstances. There is a range of options for all budgets when it comes to ashes. Some alternatives to niche inurnment include:
In-ground burial of ashes in a cemetery or memorial garden. This can be a more traditional approach as a headstone or marker is used
Keeping ashes at home or buried on private property
Scattering ashes at sea or at a public space such as parkland (approvals or permits may be required)
Dividing remains between loved ones to keep
Using ashes to create keepsakes such as jewelry, art, or stuffed toys
Planting ashes using a bio-urn to grow into a tree
Columbarium FAQS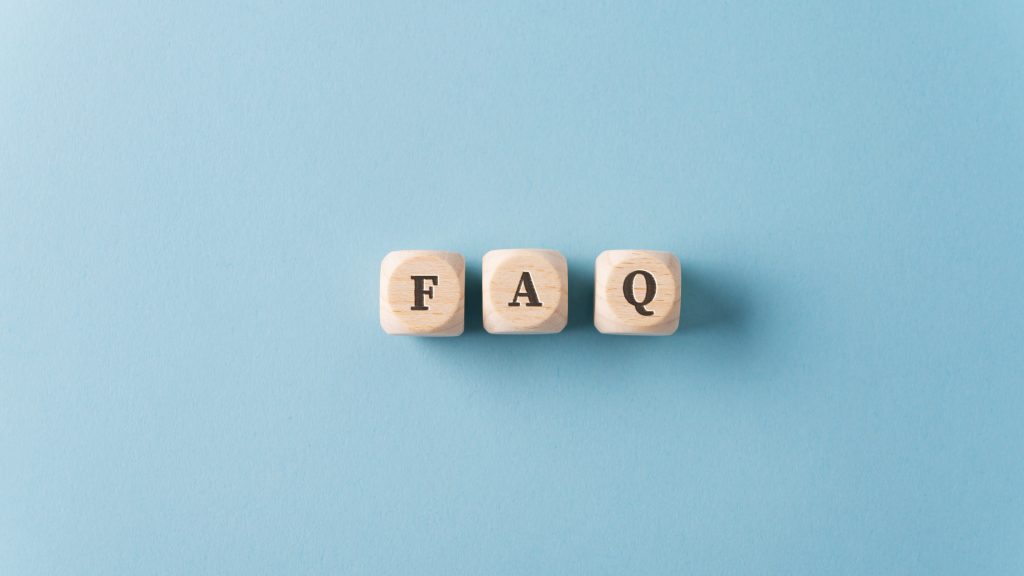 Can human and pet remains be placed in a columbarium?
This depends on specific state legislation, with some locales remaining silent on the issue. Check with your local crematorium as they are best placed to advise. In practice, deceased owners have been inurned in a columbarium with their pet's ashes – but this has occurred without formal consent. 
Is a columbarium a cemetery?
No, a columbarium is a structure that houses cremated remains. This can be located within the grounds of a cemetery or other location (e.g. a church or mosque).
What is a columbarium inurnment?
This refers to the process of placing remains into a permanent resting place. An urn containing ashes is usually secured in a columbarium niche following cremation.