What are Casket Blankets?
A casket blanket is a decorative floral blanket that is draped over a casket during a funeral. Made of plant materials and a foam or fabric base, they usually adorn the sides of a casket and cover the entire top or lower lid of an open casket.
Casket blankets have a more uniform appearance than casket sprays which cover less of the container. Grieving families often prefer blanket arrangements as they look more formal – suiting those who have worked in service roles or honored positions. You also may have seen casket blankets adorned on the winning horses of prestigious races.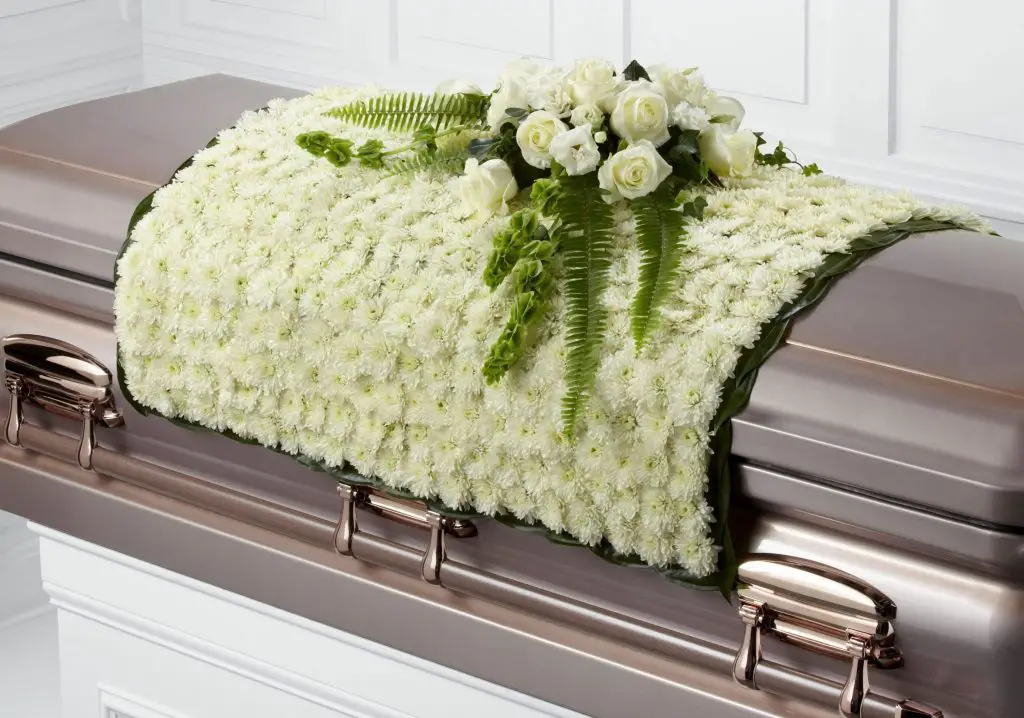 What does a Casket Blanket Symbolize?
While a casket blanket mainly acts as a decorative item, it symbolizes respect to the deceased and a way to keep them "warm". Floral tributes are a beautiful way to express love and grief with the practice starting in ancient times.
The form of a blanket has origins in palls used in Christian funerals – a large cloth that covers the casket during the service. This pall is symbolic of the dignity of the individual. It also shows that death makes everyone equal.
Does a Casket Blanket get Buried?
In most instances, a casket blanket is removed from the casket and placed on top of the grave after burial. Family members may also choose to take the flowers home or donate them to a retirement home or church.
What Size are Casket Blankets?
An average full-sized casket blanket is 24" wide by 60″ in length. This is sufficient to cover most of the top and sides of a closed burial container. 
These dimensions will vary widely depending on the extent of coverage requested. Specific measurements should be discussed with the florist so that the arrangement will suit the size of the casket.
How Much is a Casket Blanket?
The price of a casket blanket ranges from $200 up to the thousands for a premium display. This average will vary based on a range of factors including the type of flowers used, density of the arrangement, and overall size of the casket blanket (as more materials and labor will significantly impact cost). Some families choose to make their own casket blankets to save money as it can be done without too much technical effort.
Which Type of Casket is Best for a Casket Blanket?
Casket blankets are best suited to closed caskets or coffins. This allows for a beautiful visual of flowers draped across the whole top and sides of a burial container. 
While full-couch caskets are the most popular pairing, casket blankets can be made for any size of casket. This includes open caskets (half-couch) for viewings, oversized caskets, and child or infant-sized caskets.
How is a Casket Blanket Made?
Traditional casket blankets are made by attaching fresh flowers to pre-measured fabric (i.e. usually a heavy material such as burlap). This is done by weaving the foliage through the cloth and sewing or wiring to secure it in. 
Modern methods of making casket blankets aim to preserve the flowers to avoid wilting while on display. This involves the use of floral foam that has been soaked in water and a casket saddle to hold the structure. Flowers and greenery are then inserted into the sides of the foam so they drape down to form a blanket. 
If you are planning on the DIY route and making your own casket blanket then this is a handy guide. 
How to Place a Casket Blanket on a Casket
If you are managing the decorations yourself then ensure that you keep the casket blanket in a cool, dark location until it is ready for use. Ideally, this would be a refrigerated space (not a freezer!) if available. 
Before the funeral service, carefully hold the casket blanket from underneath using the casket saddle. Position it across the casket lid making sure to contain any water. Once it is in place, arrange the flowers so that they fall symmetrically down the casket sides. Make sure to stand back and view the casket from afar for adjustments before you finish. 
Tip: Your funeral director is also experienced with floral displays and can help to coordinate set-up onto a casket. 
What are Alternatives to Casket Blankets?
Grieving families have a variety of decorative floral options to choose from. You will likely observe a combination of arrangements during a funeral service. The following displays can be used as a substitute for a casket blanket or work alongside one:
Casket Scarf – a floral drape resembling a small casket blanket. A casket scarf is draped over a casket without covering the sides, or over the closed portion of a lid.
Casket Spray – the most popular alternative to a casket blanket, this large bouquet of foliage adorns the top of a casket. Floral sprays are typically cheaper than casket blankets as they use fewer materials.
Standing Spray or Wreath – an arrangement of flowers that are placed on an easel for display. The stand does not make contact with the casket but it is usually positioned close by.
Basket/Box Arrangement – a freestanding floral and greenery bouquet assembled in a basket or cardboard box. This form of display is a common sympathy gift sent by others to the grieving family due to its portability. 
Grave Blanket – often confused with a casket blanket, this evergreen arrangement is used to cover the ground above a grave. Grave blankets are commonly used during the holiday season (e.g. Christmas or birthdays) rather than for funeral services.
Casket Blanket Frequently Asked Questions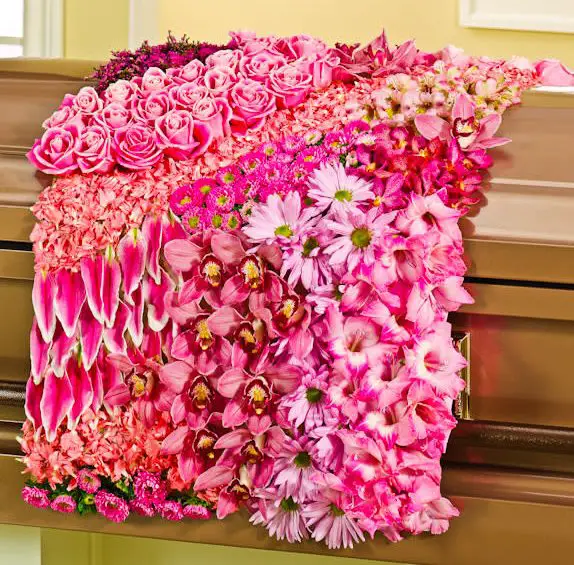 What is a casket saddle?
A casket saddle is a foam and rubber-based structure used to secure floral arrangements for display. They retain moisture in the foam to keep plant materials hydrated throughout a funeral service. Using an adjustable base, a casket saddle is firmly fitted onto the top of a casket. This allows for transport of the casket without worrying about the flowers falling off.
Can I use a casket blanket in a half-couch casket?
Yes, casket blankets are made to order and can fit both half-couch and fully closed burial containers. 
Who wears a flower at a funeral?
While it is more common to wear flowers at a wedding or celebratory event, flowers can be adorned during a funeral. This is usually reserved for immediate family members (e.g. spouse, children, parents, and siblings of the deceased).
Who buys the casket flowers?
In most cases, the casket flowers are purchased by immediate family members. They can select flowers that best reflect the personality and taste of the deceased.
Are flowers buried with the casket?
Flowers are not buried with the casket in the majority of cases. Loved ones may throw individual flowers into the grave, but any large arrangements are taken home or donated to nursing homes or palliative care. They may also be placed on top of the filled grave and later disposed of by cemetery staff.
Why do we throw flowers on a coffin?
The tradition of throwing flowers on a coffin or into a grave represents condolences for grieving loved ones. This act signifies support and a fond farewell to the deceased.